Do This for Love: Free Burma Rangers in the Battle of Mosul (Hardcover)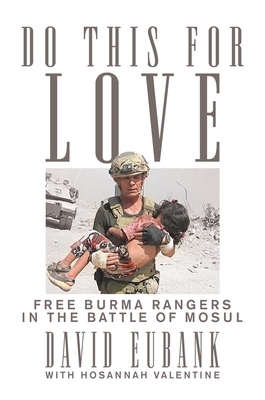 $30.00
Not currently in store. Available to ship from distributor's warehouse.
Description
---
The fiercest urban battle in recent history, to retake the city of Mosul from ISIS, lasted nine months. Thousands were killed, millions displaced. How to help in such a massive and desperate situation? This is the story of how one small organization from Burma answered that question: go. Give up your own way, help the people, share love.

As coalition forces, led by brave Iraqi soldiers on the ground, slowly pushed ISIS out, the brutality of the terrorists was turned against thousands of civilians as they fled the fighting. There was no humanitarian template for responding to such ruthlessness; to attempt to help would take total commitment.

Birthed in the war zones of Burma to stand with villagers under attack by the Burma Army and provide medical care, relief, and reporting, the Free Burma Rangers came to Mosul with twenty years of war zone experience in the jungle. Led by their founder, David Eubank, a former Ranger and U.S. Special Forces officer, medics, and cameramen from the teams in Burma, other foreign volunteers, and Dave's wife and three children, came to fill the gap between the frontlines and the humanitarian community. They came living by the conviction that every person counts and the only force that can defeat hate is love. Four team members were wounded and one killed as they lived out that conviction with total commitment. This is their story.
About the Author
---
David Eubank is a former U.S. Army Special Forces and Ranger officer and the founder of the Free Burma Rangers (FBR), a multi-ethnic and faith relief organization. He and his family share the love of Jesus in Burma, Iraq, Kurdistan, Syria, and Sudan giving help, hope, and love while shining a light on the situations of the people they meet there.
Praise For…
---
"Dave and the Eubank family have miraculously lived through countless dangerous and difficult circumstances with the Free Burma Rangers, offering life-saving rescue, medical aid, food, water, and shelter to people—pushed from their homes by war zones overwhelming their lands—who would otherwise be helpless and hopeless. Some of us hear or read about biblical selflessness, some of us even write about it. Do This For Love will leave an indelible mark on you as the true story of the FBR's work in the face of ISIS brutality in Mosul, Iraq unfolds before you."
— Oliver L. North, bestselling author of The Rifleman

"An unforgettable glimpse into the heart and soul of a remarkable servant-leader, the story of his incredible family's walk in God's love, and their powerful examples' impact on lives savaged by conflict. Regardless of faith, a must read as the Eubank's unflinching and unconditional love will inspire, humble, and renew your hope in the human spirit."
— Lieutenant General Bernie Champoux, U.S. Army, retired

"Humanity at its finest: the ever-benevolent Eubank family and their valiant Free Burma Rangers teach us what service to a higher purpose truly means. Their unwavering faith and selfless commitment to God, a noble mission, and steadfast values inspire us to make the seemingly impossible, possible."
— Colonel Chris Sorenson, U.S. Army, retired

"Dave Eubank is arguably one of the most combat-hardened warriors in the world today. Since the mid-1990s he has been putting his life on the line for the benefit of others, going boldly with humility into the hottest zones on the planet. What can you learn from him? Get a highlighter ready, because this book will help you understand the mind of a humble warrior and why the key to survival in the battles we all face in life comes down to avoiding being motivated by comfort, fear, or pride. This is a story of faith unlike any you have ever seen. It is not for the faint hearted or the milquetoast Christian."
— Chuck Holton, former U.S. Army Ranger, freelance War Correspondent, author and motivational speaker