Starter Sourdough: The Step-By-Step Guide to Sourdough Starters, Baking Loaves, Baguettes, Pancakes, and More (Paperback)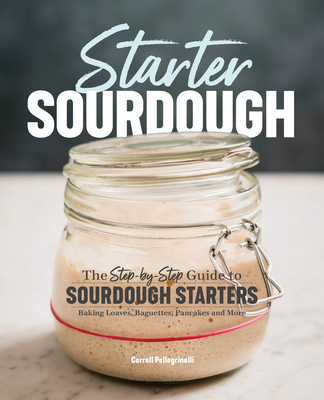 $15.99

Not currently in store. Available to ship from distributor's warehouse.
Description
---
Easy sourdough starter--for flawless finished bread.
For perfect sourdough bread, you need a healthy and happy starter--that yeasty concoction that gives sourdough its tangy, delicious flavor. Starter Sourdough helps you get the tricky starter process down pat, so you can have mouthwatering loaves, rolls, baguettes--and even cakes and cookies
This guide simplifies the process of making your own starter so it's accessible to anyone, no matter your skill level. Keep your tasty new creation alive and thriving with the help of clear instructions accompanied by beautiful photographs. Then try your hand at baking Perfect Italian Sourdough, Sourdough Marble Rye Bread, Double Piecrust, Sourdough Pretzels, Sourdough Cinnamon-Sugar Doughnuts, and more.
Inside Starter Sourdough, you'll find:
Great start--Master the secret to a good sourdough bread using this basic starter recipe: just flour, water, and a little attention.
Creative variations--Craft whole grain breads, pizza dough, biscuits, and cake--there's a huge variety of recipes to explore, all from your starter.
Nonstop starter--Sustain a hearty, long-lasting starter with a simple weekly feeding schedule, so it will repay you in baked goods for years to come.
Put a unique twist on baked goods with Starter Sourdough