InteGRITy: My Slow and Painful Journey to Success (Hardcover)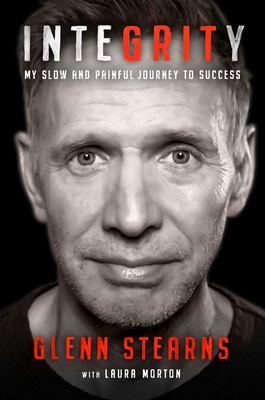 Description
---
From underdog in life to starring in Discovery Channel's Undercover Billionaire, Glenn Stearns is a rags-to-riches story that shows what can be accomplished with unbridled grit and fierce determination.

Growing up in a low-income suburb of Baltimore, Maryland, Glenn Stearns attributes optimism, hope, hard work, and unforgettable mentors as the indelible influences that helped him break free from hardship, overcome numerous challenges, and dare to live his wildest dreams.

Stearns believes that it does not matter where you grew up, how little money you have, or even how many mistakes you have made—everyone has the potential to turn their life around and make their dreams come true. That's the core belief and incredible life of Glenn Stearns and what InteGRITy is all about.

Filled with memorable anecdotes from his roller coaster life and career, InteGRITy is a story about adversity, pain, attitude, and action. Glenn shares the lessons learned in his life, both personally and professionally, that helped him become the wildly successful business leader he is today. Through this story, he hopes to inspire others and leave a legacy built on kindness.
About the Author
---
Born to alcoholic parents, Stearns was diagnosed with dyslexia, failed fourth grade, and fathered a child at the age of fourteen. He graduated high school in the bottom ten percent of his class. By this time, he had developed a drinking habit that rivaled his parents, struggled with a quick temper, and found himself in jail more than a few nights along the way. Inspired by the promise of the American dream, Stearns took control of his destiny. He became the first person in his family to attend college and graduated with a degree in economics from Towson University. Motivated by stories of people who took risks and achieved their grandest ambitions, he boldly moved to California where he worked as a waiter and slept on the kitchen floor of a one-bedroom apartment that he shared with five other recent grads. All the while, Glenn continued to search for new opportunities to rise above his challenges and dared to live his best life.

In just under ten years and with no lending experience, Glenn formed his own mortgage company, Stearns Lending LLC, as well as a settlement company, Carriage Escrow. His settlement company soon became the largest HUD contractor in America. In 2002, Glenn's visionary success earned him Ernst and Young's "Entrepreneur of the Year" Award.

Laura Morton is the co-author of more than sixty books, including twenty-one New York Times bestsellers, and has worked with Justin Bieber, Jonas Brothers, Jennifer Hudson, John C. Maxwell, Joan Lunden, Al Roker, Deborah Roberts, Melissa Etheridge, Susan Lucci, Danica Patrick, Sandra Lee, Kathy Ireland, Marilu Henner, among many others. She lives in California.