North Bay Road (Hardcover)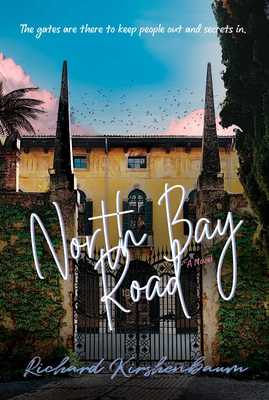 Find us on Bookshop.org to order!
Description
---
After receiving a crumbling Mediterranean mansion, Liz Galin uncovers clues that will solve a century-old murder…and reveal a forbidden love story that mirrors a modern one.

Everyone fantasizes about receiving a gift from a stranger.

Liz Galin, an out-of-work fashion stylist, lives in a walk up studio apartment in Alphabet City in Manhattan. She has put her life on hold during COVID-19 to care for her mother going through chemo, and cannot see her boyfriend Cary as he is an emergency room doctor during the height of the pandemic. One Monday morning, she receives a cryptic letter from a Miami lawyer indicating that she should call his office. When she does, she and her mother Linda find out she has been bequeathed an asset in a will. She is shocked to find she's been left a storied, crumbling Mediterranean mansion on Miami's famed North Bay Road by a reclusive socialite who has recently passed. She has no idea who Elsa Sloan-Barrett was or why she left her multimillion-dollar home to her.

Liz's journey uncovers clues that will solve a century-old murder mystery and a forbidden love story that will ultimately change her life. It will also uncover a new love triangle with a famous, reclusive celebrity neighbor that will test her own relationship and values and in many ways, mirroring the love story she uncovers. In the end, the mansion won't be the only gift she receives….
About the Author
---
Richard Kirshenbaum is one of the most exciting personalities in New York City advertising. Richard is an accomplished entrepreneur and an author who has written a number of books.

In 1987, at age twenty-six, he cofounded the Kirshenbaum Bond + Partners agency, which pioneered such innovative concepts as the pop-up store, sidewalk advertising, and other forms of high visibility guerilla marketing. At the time of its sale, KBP was the largest independent ad agency in the United States, with one billion in billings. Currently, Kirshenbaum is CEO of SWAT by Kirshenbaum, a high-profile boutique branding agency he launched in 2011, which works with entrepreneurs and emerging companies. He is also co-founder, with music icon Chris Blackwell, of Blackwell Fine Jamaican Rum, as well as the co-founder of SWAT Equity, a fund that invests in emerging consumer brands.

Kirshenbaum has lectured at Harvard Business School, has appeared on 20/20, had a cameo in Morgan Spurlock's The Greatest Movie Ever Sold, and was voted one of the twenty-five most stylish New Yorkers by Us magazine. He was named in Crain's New York Business's "40 under Forty" list, was inducted into the Advertising Hall of Fame in 2000, and placed second on a list of the top one hundred US entrepreneurs. He is the author of Isn't That Rich?, a #1 Amazon bestseller, and his latest debut novel, Rouge. He has also contributed to Us Weekly's "Fashion Police" feature and has written comedy for the legendary Joan Rivers, among others.

In 2021 Richard was elected to the Board of Trustees to the Princess Grace Foundation. He helped create the concept for and name of Grace De Monaco, a luxury brand for good, celebrating the legacy of the late Princess Grace Kelly.

He lives in New York City with his wife Dana and three children.
Praise For…
---
"Looking for a seaside page-turner? Look no further than bestselling author and New York City ad executive Richard Kirschenbaum's latest literary masterpiece, North Bay Road.…This new novel-ty on the East End makes for a thrilling title this summer."
— Hampton's Magazine

"…A beach read by a guy and he pulls it off…the book is a lot of fun which we can use these days and Kirschenbaum has an instinctive feel for women of all ages."
— Joan Baum, Baum on Books, NPR

"[A] Pandemic-inspired novel [that] plays up Miami Beach real estate glamour."
— New York Post Buzz Book of the week

"Advertising guru Richard Kirshenbaum can write more than just snappy copy. In this charming page turner...real estate isn't the only mystery that comes Liz's way, however, in this timely story about secrets, desire, and getting the things we never knew we needed."
— Town & Country Magazine

"The beach read of the summer."
— Rosanna Scotto, Co-host Fox 5 Good Day New York

"In my one hundred years, I've read my fair share of books and I can tell you Richard Kirshenbaum's North Bay Road was among the most enjoyable of reads."
— Norman Lear

"If you loved The White Lotus you are sure to love North Bay Road. Once you start you won't be able to put it down. Did anyone say TV series?"
— Bill Gerber, Academy Award-nominated Producer, A Star Is Born

"North Bay Road is not only the ultimate beach read, but the ultimate Miami Beach Read."
— Ernest Lupinacci, Co-Producer, The Offer and Author of The Godfather Gang

"A lush, descriptive, evocative look at inheritances of all kinds, even the most unexpected, with Richard Kirshenbaum's keen insider eye at work yet again. An immersive triumph!"
— Zibby Owens, Author of Bookends: A Memoir of Love, Loss, and Literature, Host of Mom's Don't Have Time to Read Books

"Richard Kirshenbaum is a magnificent storyteller. Liz Galin's life is not turning out as she had hoped. When she is bequeathed a palazzo in Miami in need of repair, she sets out to fix her own life as she solves the mystery of her inheritance. North Bay Road will find its way on to every beach chair in America and will have readers turning pages long after the sun has gone down. Houses hold secrets, but in Richard Kirshenbaum's hands, not for long."
— Adriana Trigiani, Author of The Good Left Undone