Cuisinart Air Fryer Oven Cookbook: Easy, Affordable and Flavorful Air Fryer Oven Recipes to Satisfy Your Meal on A Budget (Paperback)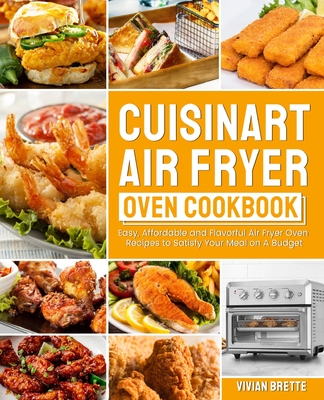 $16.19
Not currently in store. Available to ship from distributor's warehouse.
(This book cannot be returned.)
Description
---
Do you want delicious, yet healthy fried foods? Take pleasure in cooking crunchy favorites shared with your loved ones
Effortless Cuisinart Air Fryer Oven Cookbook for Delicious Meals with this Cuisinart Air Fryer Oven Cookbook
The Cuisinart Air Fry Oven―the oven that crisps and flips up and away―is here, and there's never been a simpler way to master its many features. Here's a cookbook that's bursting with hot tips and tasty recipes for cooking with this incredible appliance.
A great choice for new owners and dietary experts, this cookbook offers a complete introduction to the Air Fry Oven. From 30 minutes fast prepping to big-batch cooking, discover new ways to take your meals to the next level.
This complete Cuisinart air fryer oven cookbook contains:
Tons of Appetizers & Side Dishes
Tasty Breakfasts & Effortless Desserts
Lots of Poultry and Red Meat recipes
Fish & Seafood choices
Great variety of Vegetarian and Vegan meals
And more.
This appliance has taken the world by storm because it offers an affordable and convenient way of cooking budget friendly family meals. It comes with many scientifically proven health benefits for you and your family to live a healthier and happier lifestyle.
Click the "buy now" or "add to cart" button to start cooking amazing meals for you and your family now
Tags: Cuisinart air fryer smart oven recipe book, Cuisinart Air Fryer Oven Cookbook for Beginners, Cuisinart Air Fryer Toaster Oven Cookbook for Beginners, Cuisinart Smart Air Fryer Oven Cookbook 2020-2021, Cuisinart air fryer toaster oven cookbook, Cuisinart convention toaster oven cookbook, Cuisinart air fryer recipes, Cuisinart air fryer cook book, Cuisinart oven recipes