The Beginner's Guide to Dehydrating Food, 2nd Edition: How to Preserve All Your Favorite Vegetables, Fruits, Meats, and Herbs (Paperback)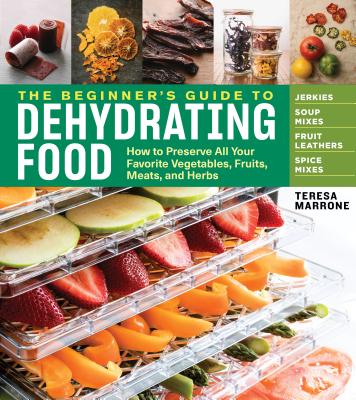 $24.95

Not currently in store. Available to ship from distributor's warehouse.
Description
---
This essential companion for putting your food dehydrator to work features instructions and techniques for drying all the most popular fruits and vegetables, along with meat and herbs. You'll learn to dry fruits and vegetables at their peak, giving you an easy and economical way to stock your pantry with apple rings, mango slices, banana chips, dried soup beans, tomatoes, and much more for year-round enjoyment. In addition, drying guidelines for specialty items like meat jerky, fruit leather, dried herb and spice mixtures, backpacking meals, and even baby food round out this friendly handbook.
About the Author
---
Teresa Marrone is the author of several cookbooks, field guides, and regional books. She is very active in her local food scene and has written food-related profiles and features for a variety of magazines. She lives in Minneapolis, Minnesota.

 
Praise For…
---
"Simple and easy, dehydrating foods intensifies their natural delicious flavors so they're ready for snacking and to add to your favorite soups and stews, cakes, and cookies. This book is chockfull of practical advice and plenty of wisdom." ?Beth Dooley, author of In Winter's Kitchen

"Food dehydration is preservation at its purest, oldest, humblest form. If you thought you would be just drying your fruits and vegetables, keep reading. Soon you will be making your own dried snacks and soups, even cereal—for convenience, backpacking, or gifts." ? Kirsten Shockey, author of Fermented Vegetables and Fiery Ferments

"In this era of super storms, having a supply of dehydrated foods just makes sense, and this is the book to guide you on your path." ? Andrea Chesman, author of The Pickled Pantry and The Backyard Homestead Book of Kitchen Know-How

"The most comprehensive book on drying food I have ever seen." ? Barbara Pleasant, author of Homegrown Pantry

"Indispensable for anyone diving into the cost-saving, flavor-boosting world of home preservation." ? Alana Chernila, author of The Homemade Pantry and Eating from the Ground Up
 

"Simple and easy, dehydrating foods intensifies their natural delicious flavors so they're ready for snacking and to add to your favorite soups and stews, cakes, and cookies. This book is chockfull of practical advice and plenty of wisdom." ?Beth Dooley, author of In Winter's Kitchen

"Food dehydration is preservation at its purest, oldest, humblest form. If you thought you would be just drying your fruits and vegetables, keep reading. Soon you will be making your own dried snacks and soups, even cereal—for convenience, backpacking, or gifts." ? Kirsten Shockey, author of Fermented Vegetables and Fiery Ferments

"In this era of super storms, having a supply of dehydrated foods just makes sense, and this is the book to guide you on your path." ? Andrea Chesman, author of The Pickled Pantry and The Backyard Homestead Book of Kitchen Know-How

"The most comprehensive book on drying food I have ever seen." ? Barbara Pleasant, author of Homegrown Pantry

"Indispensable for anyone diving into the cost-saving, flavor-boosting world of home preservation." ? Alana Chernila, author of The Homemade Pantry and Eating from the Ground Up