Protecting the Planet: Environmental Champions from Conservation to Climate Change (Hardcover)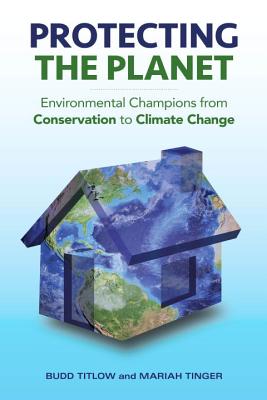 Find us on Bookshop.org to order!
Description
---
Climate change is often associated with predictions of dire calamities. But in the past, heroic individuals have stepped forward to meet even the most ominous ecological challenges. This book tells an inspirational story--a story both of pioneering environmentalists who raised our collective consciousness regarding nature's value and heroes of today who are working to secure a sustainable future.

The authors begin with the mounting evidence for climate change as seen in rising carbon dioxide levels, higher global temperatures, melting ice sheets, and sea level rise. They then review the history of the US environmental movement, focusing on the key people who changed our understanding of the human impact on our natural surroundings. These include John James Audubon, Henry David Thoreau, John Burroughs, Theodore Roosevelt, John Muir, Bob Marshall, Roger Tory Peterson, Aldo Leopold, Rachel Carson, David Brower, Barry Commoner, Donella Meadows, and many more.

Turning to the present, the authors recount the activities of people currently pursuing remedies for climate change--scientists, researchers, activists, artists, and celebrities. Much of this information is based on recent personal interviews.

They conclude with a set of actionable strategies, demonstrating that there are good reasons to hope that we can achieve a sustainable lifestyle, protect our planet as our home, and ensure the future for our children.
About the Author
---
Budd Titlow is a professional wetland scientist and wildlife biologist, as well as an international and national award-winning nature photographer and widely published writer. He has operated Naturegraphs Freelance Photography and Writing for more than forty years. He has authored three natural history books, most recently, Bird Brains: Inside the Strange Minds of Our Fine Feathered Friends. He is currently teaching ecology, environmental science, birding, and photography courses at Florida State University and the Tallahassee Senior Center, while writing a weekly bird-watching column for the Tallahassee Democrat Daily newspaper. He is also president-elect of the Apalachee Audubon Society.

Mariah Tinger has more than twelve years of experience leading individuals and teams in environmental stewardship and education. She has worked in both corporate and nonprofit settings, including several years in Yosemite National Park and as a senior environmental program coordinator for Genzyme Corporation. She began her in-depth studies of climate change while pursuing a master's degree in environmental management at Harvard University's Extension School. She is currently a teaching fellow for sustainability and environmental management courses at the university.
Praise For…
---
"Protecting the Planet is THE book to read to understand every aspect of climate change, from the politics to the science to the movement."
 
—Thom Hartmann, author of The Last Hours of Ancient Sunlight

"Protecting the Planet is not only an explanation of climate change, its beginning, and its impact, but gives readers a thorough understanding of the history of environmental stewardship. The people who have played important environmental roles at crucial times in history are discussed, along with their contributions to solving this most important moral issue of our time. It is important to know where we have been before we know where we are going. Titlow and Tinger have set the stage for the past and the future in this masterpiece."
 
—The Rev. Canon Sally G. Bingham, president of The Regeneration Project, Interfaith Power & Light

"Protecting the Planet takes the momentum of past efforts to care for nature and her people and channels it like a high-speed train toward a healthier and safer future. It explains global climate change in language as clear and compelling as the light of day and provides a bracing inventory of environmental challenges, together with the heroic actions of people who've confronted them head-on and fearlessly. This book is an invaluable primer, guidebook, and reference that is sure to inspire many to follow in the footsteps of the eco-giants of yesterday and today to create a shining, beautiful planet for tomorrow."

—Kenneth Worthy, PhD, author of Invisible Nature: Healing the Destructive Divide between People and the Environment and lecturer at the University of California, Berkeley

"A comprehensive historical examination of and unabashed reflection on human-caused climate change and the resulting US environmental movement, Protecting the Planet goes beyond laying blame and pointing fingers to celebrate the heroic individuals who, over the span of decades, have used their many talents to work toward real solutions in the Anthropocene."

—James Balog, founder and director of Earth Vision Institute and Extreme Ice Survey

"The grand sweep of environmental history built from the stories of the actual players: a fascinating chronicle that brings this history vividly to life. Required reading for anyone who cares about the future, and an appealing tutorial for those open to greater engagement."

—Thomas E. Lovejoy, University Professor of Environmental Science and Policy at George Mason University and Science Envoy for the US Department of State