You Won't Believe Your Eyes! (Revised and Expanded Monster Kids Edition): A Front Row Look at the Science Fiction and Horror Films of the 1950s (hardb (Hardcover)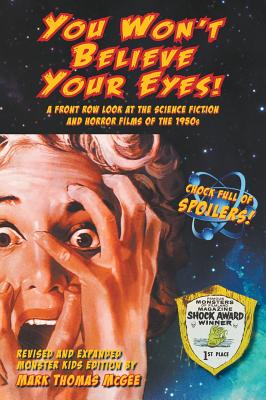 Find us on Bookshop.org to order!
Description
---
This is the Hardback version of the revised and expanded edition.
Bigger Better Bolder This is an affectionate, sometimes laugh-out-loud funny look at the movies your parents didn't want you to see, the monster movies from Science Fiction's Golden Age. It's also about some of the fans who couldn't get enough of them, known today as monster kids. This is their story too. Some of these monster kids, like stop-motion expert David Allen, became monster movie filmmakers themselves. You'll read about him and Bill Warren, the author of the fabulous Keep Watching the Skies And Forrest J Ackerman, the editor of Famous Monsters of Filmland magazine. It's all here With an introduction by monster kid Don Glut. Be warned. You'd better read every word. There's a pop quiz at the end of the book.
"McGee knows this genre upside down and backwards, and writes with real authority. He loves these movies, and celebrates them as much for their goofy failings as for their imagination and entertainment value. Best of all, McGee is a terrific colloquial writer of great wit. I laughed out loud as I revisited many of my favorite pictures. You will too."
- David J. Hogan, author of Dark Romance and Film Noir FAC.