Mediterranean Paleo Cooking (Paperback)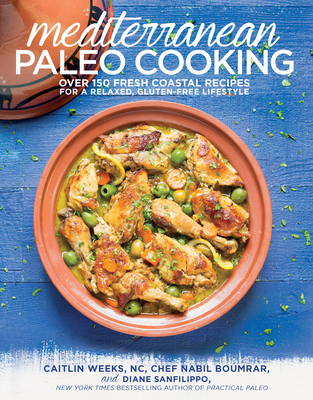 $39.95

Not currently in store. Available to ship from distributor's warehouse.
Description
---
Mediterranean Paleo Cooking showcases a wide variety of creative recipes that are Paleo-friendly—no gluten, grains, inflammatory oils, dairy, or refined sweeteners. These flavorful dishes combine traditional food from southern Europe, North Africa, and the Middle East with the healthful principles of a Paleo diet. With over 150 recipes, two 30-day meal plans (one for general health and one for those following an autoimmune protocol), shopping lists, cooking tips, and more, Mediterranean Paleo Cooking helps readers become better cooks and more informed eaters. But more importantly, it turns healthy eating into delicious eating with enticing Mediterranean meals that every foodie will enjoy. Over 150 Paleo-friendly recipes inspired by the relaxed coastal attitude and ingredients of the Mediterranean - all gluten-free, grain-free, refined sugar-free, and dairy-free. Chef's tips from Nabil help you learn as you go, with advice on cooking and techniques for Mediterranean ingredients Nutritionist's tips from Caitlin to educate you on the health benefits of Mediterranean foods Familiar, comfort-food favorites are modified for a Paleo lifestyle, including pizza, pasta, rice, biscuits, and brownies Mediterranean recipe favorites, recreated including: falafel, pita bread, moussaka, hummus, and biscotti cookies. Recipe/ingredient notes and swaps for those who have food allergies (including to eggs and nuts) as well as for those following a low FODMAP diet, lower carbohydrate diet, SCD or GAPS diet, or the autoimmune protocol Two 30-day meal plans to help you jump-start your Paleo lifestyle: for general health or to follow an autoimmune protocol six different menu plans perfect for a weeknight dinner party or special occasion (including one that is 100% AIP compliant or is easily modified to be so with notes on the recipes) 18 guilt-free desserts with no refined sugar Shopping lists and an optimal food buying guide make it easy to find the right ingredients
About the Author
---
Caitlin Weeks is a holistic nutrition consultant and personal trainer in San Francisco. She also blogs at her popular site, Grass Fed Girl, where she talks about holistic health and Paleo nutrition. Nabil Boumrar is a professional chef at a five-star international hotel in downtown San Francisco. He graduated with honors from an established culinary program where he was trained by the best chefs in Northern California. He was born in Algiers, Algeria, and in 2004 came to the United States, where he soon discovered his passion for cooking. Diane Sanfilippo is a Certified Nutrition Consultant who specializes in blood sugar regulation and digestive health, and she teaches nutrition seminars nationwide. She is The New York Times bestselling author of Practical Paleo: A Customized Approach to Health and a Whole-Foods Lifestyle, The 21-Day Sugar Detox, and The 21-Day Sugar Detox Cookbook. Shewrites the popular health blog Balanced Bites (www.balancedbites.com), and co-hosts a top-rated weekly health podcast on iTunes, "The Balanced Bites Podcast." She is a graduate of Syracuse University.
Praise For…
---
"Mediterranean Paleo Cooking has filled a huge void in the Paleo cookbook market. The approachable recipes and sunny food photography are sure to inspire folks to prepare exotic feasts filled with crispy falafels, spicy tagine, and grilled kebabs. Caitlin, Nabil, and Diane have poured their hearts and souls into this beautiful cookbook and it shows on every page."
— Michelle Tam

"This book is loaded with color, flavor, and style. If you're tired of the typical Paleo fare, Mediterranean Paleo Cooking is sure to renew your passion in the kitchen. What's more, it caters to a variety of specific needs—like low-carb, autoimmune, and GAPS—so you can enjoy fresh new dishes without sacrificing your health goals. This is an absolute must-have cookbook."
— Chris Kresser, LAc

"If you're feeling the need to shake it up in the kitchen, Mediterranean Paleo Cooking is the answer! It reimagines coastal classics to be grain-free and Paleo-friendly, and the bold spices and rich broths will reinvigorate your Paleo plate and get you excited to try something new."
— Danielle Walker

"Mediterranean Paleo Cooking is truly a masterpiece, with exquisite recipes bursting with authentic flavors. The accessibility of this book is unsurpassed, with recipe labels and innovative modifications to accommodate those following the autoimmune protocol, low-FODMAP, low-carb, SCD, GAPS, nut-free, and egg-free Paleo diets."
— Sarah Ballantyne, PhD

"Mediterranean Paleo Cooking brings together a beautifully crafted book that's 3 parts cookbook with 1 part functional Paleo guide, with a dash of meal planning. Caitlin and Nabil have created something not only beautiful and tasty, but also pragmatic. Much like the diversity of cultures and cuisines in the Mediterranean region, this book contains a wonderful blend of dishes that dance across each vibrant page. If you're looking for a more tailored approach to Paleo with some seriously amped up meals, then this book is your one way ticket to exciting new flavors and exotic cuisines."
— Hayley Mason & Bill Staley,