Capital: Raising Money in a Digital World (Hardcover)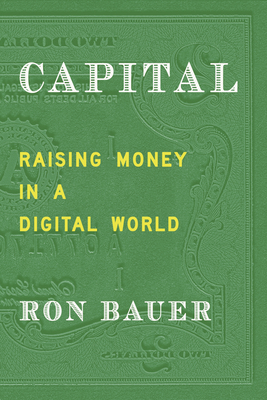 $21.95
Email or call for price.
Description
---
Fund your business in a shifting landscape
As the business world adapts to a new world order of social distancing, where face-to-face interactions are almost impossible, how can entrepreneurs reach new investors and raise the capital they need? In this book, venture capitalist Ron Bauer provides clear, actionable steps for how new and established business owners can raise capital during this uncertain time of skittish investors, roller-coaster stock markets, and economic turmoil.
Drawing on the expanded funding options created by the JOBS Act of 2018, the author helps entrepreneurs learn the finer points of these offerings--Regulation Crowdfunding, Reg D, and Reg A+ -- as well as how to start with a round of funding from friends and family to jump-start your business. With advice from world-class experts in this field, this book will help entrepreneurs choose which approach, or combination of options, will serve them best and help them navigate the ever-growing and complicated landscape of raising money in a digital world.
Creating a digital footprint is even more important these days, when business owners are forced to pitch their companies entirely online. Bauer helps entrepreneurs create stellar marketing campaigns using eye-catching videos, informative websites, and up-to-date collateral materials to convey their story properly and efficiently.
In this leaner, more cost-effective business landscape, the way entrepreneurs set up and fund new businesses will follow new rules; Bauer shows them how.
About the Author
---
Ron Bauer is a successful Venture Capitalist and serial entrepreneur with a particular interest in creative ways of financing businesses. His main focus is in the Life Sciences sector where he has created a number of exciting ventures side by side world class leading scientists as well as world class academic institutions such as Vanderbilt, Oxford, Stanford, Cornell, Hebrew University and Wash U. He has a proven track record of nurturing innovative concepts and supporting entrepreneurs, taking them from early stage seed-funding through to public exits or mergers with larger companies, both public and private. He started trading the markets at the young age of 16 while still a high school student in Toronto, Canada. His dynamic entrepreneurial spirit took him across the globe creating shareholder value in far-fetched places such as Africa, South America and across North America. He is a financial engineer with a proven track record of raising capital across all sectors and all geographies. He holds a Masters of Business Administration from the University of Cambridge and is currently enrolled in a Doctorate of Business Administration program at Temple University.