Ninja Selling: Subtle Skills. Big Results. (Hardcover)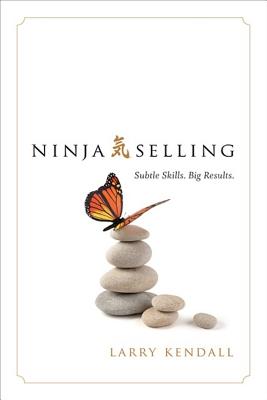 Find us on Bookshop.org to order!
Description
---
2018 Axiom Business Book Award Winner, Gold Medal
Stop Selling Start Solving In
Ninja Selling
, author Larry Kendall transforms the way readers think about selling. He points out the problems with traditional selling methods and instead offers a science-based selling system that gives predictable results regardless of personality type.
Ninja Selling
teaches readers how to shift their approach from chasing clients to attracting clients. Readers will learn how to stop selling and start solving by asking the right questions and listening to their clients.
​Ninja Selling
is an invaluable step-by-step guide that shows readers how to be more effective in their sales careers and increase their income-per-hour, so that they can lead full lives. Ninja Selling is both a sales platform and a path to personal mastery and life purpose. Followers of the Ninja Selling system say it not only improved their business and their client relationships; it also improved the quality of their lives.
About the Author
---
Larry Kendall holds a master's degree in Business Administration from Kansas State University and is one of the founding partners of The Group, Inc., a real estate company with two hundred sales associates and six offices in Northern Colorado. He is the creator of Ninja Selling, a sales training system with over fifty thousand graduates in the US, Canada, and Spain. Larry's mission is to help people bring out the best in themselves and their organizations. He lives in Fort Collins, Colorado with his wife, Patricia.