People before Highways: Boston Activists, Urban Planners, and a New Movement for City Making (Paperback)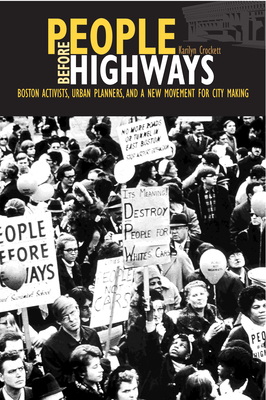 Find us on Bookshop.org to order!
Description
---
In 1948, inspired by changes to federal law, Massachusetts government officials started hatching a plan to build multiple highways circling and cutting through the heart of Boston, making steady progress through the 1950s. But when officials began to hold public hearings in 1960, as it became clear what this plan would entail—including a disproportionate impact on poor communities of color—the people pushed back. Activists, many with experience in the civil rights and antiwar protests, began to organize.

Linking archival research, ethnographic fieldwork, and oral history, Karilyn Crockett in People before Highways offers ground-level analysis of the social, political, and environmental significance of a local anti-highway protest and its lasting national implications. The story of how an unlikely multiracial coalition of urban and suburban residents, planners, and activists emerged to stop an interstate highway is one full of suspenseful twists and surprises, including for the actors themselves. And yet, the victory and its aftermath are undeniable: federally funded mass transit expansion, a linear central city park, and a highway-less urban corridor that serves as a daily reminder of the power and efficacy of citizen-led city making.
About the Author
---
Karilyn Crockett is an independent scholar and director of Economic Policy & Research for the City of Boston. She holds a PhD in American studies from Yale University.
Praise For…
---
"The author's original oral histories and extensive archival research make a major contribution of knowledge about a fascinating coalition of grassroots groups and radical professionals that stopped a major highway and helped institute a more participatory and democratic form of urban planning."—Tamar Carroll, author of Mobilizing New York: AIDS, Anti-Poverty, and Feminist Activism

"[A] tightly woven tale that reminds us of the strength of people to make change, and the collaborative nature of what it means to build a city."—Boston Globe

"People before Highways offers insight into the changing social and political values of the era and underscores the cumulative impact of the many small, community-based efforts that shaped today's city."—The New England Quarterly

"It is Crockett's deep research in dispersed archives, damp basements, and oral history interviews that have brought these little-known stories to light . . . Her account shows the power of the diverse community-based movements of the 1970s as drivers of social, economic, and environmental change and as an effective challenge to the elite-led, technocratic system of urban planning."—Historical Journal of Massachusetts

"People before Highways is well written, and its argument is supported by archival ducuments and personal interviews . . . Historians will find [it] to be a valuable addition to the literature on citizen revolts of the 1960s and especially so because it connects the era's antihighway campaigns to the community and black power movements."—Journal of American History