The Seafood Shack: Food and Tales from the Scottish Highlands (Hardcover)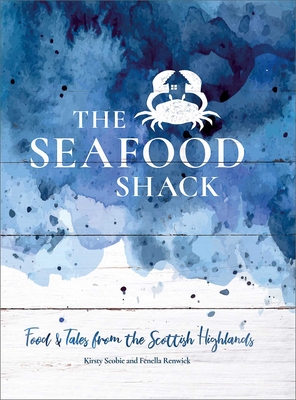 $35.00

Not currently in store. Available to ship from distributor's warehouse.
Description
---
Winner of the Jane Grigson Trust Award 2020
Winners of BBC Radio 4 Food & Farming Award for Best Street Food

Welcome to The Seafood Shack, a small food truck in Ullapool in the Scottish Highlands. It's here that Kirsty Scobie and Fenella Renwick take whatever their fishermen friends bring them each day and serve it up for their ever-growing band of loyal customers.

Join them and discover how easy it is to cook mouthwatering seafood with over 80 down-to-earth recipes, plus essential tips on how to responsibly source, prepare, dissect, fillet, and cook white fish, smoked fish, and shellfish. The recipes are punctuated with tall tales from the fishermen who go out on fine days and foul to catch this fantastic produce from the clear and icy North Atlantic waters.

Whether it's their signature haddock wrap for a mid-week dinner or their garlic & thyme langoustines for a weekend party treat, this is food that is simple and quick, but more importantly fresh, delicious to eat and an absolute joy to cook.
About the Author
---
Kirsty Scobie was born and raised on a farm just outside Ullapool. From a young age, she helped cook for visitors to the farm's guest cottages, and has worked in food and catering ever since. Her partner, Josh, owns one of the local fishing boats and lands much of the seafood that is served at The Seafood Shack, which she co-owns and runs with Fenella Renwick. Their efforts have earned them numerous awards, including The BBC Radio 4 Food & Farming Award, the Scottish Food Awards, and most recently, the Jane Grigson Trust Award.

Fenella Renwick co-owns and runs The Seafood Shack, an award-winning food truck serving sustainable local seafood in the fishing village of Ullapool in the Scottish Highlands. She grew up in the village of Achmore, where she was immersed in fishing and seafood through her mother's successful seafood restaurant in in Kyle of Lochalsh and on boats with her father, a local fisherman. She lives with her husband, a commercial diver and part-time fisherman, and their two boys.
Praise For…
---
"The Seafood Shack in the Scottish Highlands is serious about high quality and sustainable seafood."

"[A] delightful debut … For fish lovers hoping to travel to a far corner of the world without leaving the kitchen, this will not disappoint … Through chapters on white fish, smoked fish, mollusks, crustaceans, sides, and sauces, Renwick and Scobie braid firsthand accounts of life at sea with tips for buying, storing, and preparing various types of fish. They offer recipes from the simple (oysters with lemon and Tabasco) to the complex (Moroccan-style langoustine rice), and from the exotic (Thai-style cod fish cakes) to local favorites such as Cullen skink, a smoked fish soup. In their section on sauces, a guide to six flavored butters is not to be missed."
— Publishers Weekly

"Delightful, delicious reading (and perhaps cooking) … The nearly 100 recipes, even for landlocked cooks, will easily become highly rated on household menus … Scobie and Renwick, the Shack's two owners, explain the history of their take-out shop and its environs, interspersing along the way elegant, inviting, and scene-stealing color photographs as well as excellent how-tos on buying seafood."
— Booklist, Starred Review