Home Food: 100 Recipes to Comfort and Connect: Ukraine • Cyprus • Italy • England • and Beyond (Hardcover)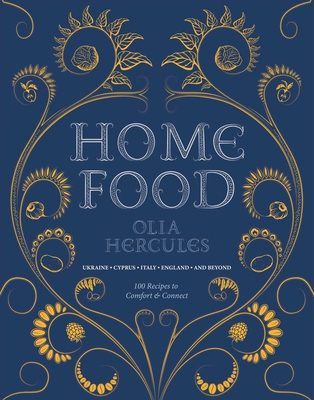 Find us on Bookshop.org to order!
Description
---
Acclaimed Ukrainian chef and food writer Olia Hercules shares 100 comforting recipes that can unite us no matter where we are from and where we end up.

In her most personal book yet, Olia Hercules distills a lifetime of kitchen curiosity into her 100 most loved recipes. She draws on her broad influences: her childhood in Eastern Europe; her years in Cyprus and Italy; her simple, plant-centric family meals at home in London; and the special festive recipes she has gleaned along the way. All these seemingly diverse recipes are centered in comfort and connection. These are recipes that have been hand written, handed down, and shared among friends: "They are nostalgic like the potatoes of my childhood, they share trade secrets like Bisque-style red mullet pasta, they interweave every day like Joe's beet, feta, and potatoes, and they make everything ok like Life-giving rhubarb cake. The foods we choose to cook time and again are part of what makes us, and when we share those recipes, we give a little of ourselves." In this book Olia gives us her food story through her very favorite recipes.
About the Author
---
Olia Hercules was born in Ukraine and lived in Cyprus before moving to the UK to study English, Italian, and Russian. After working as a chef for several years, she released her bestselling and award-winning debut cookbook, Mamushka, in 2016. This was followed by Kaukasis and Summer Kitchens, both of which also received critical acclaim. Home Food is her fourth cookbook.
Praise For…
---
Longlisted for the Art of Eating Prize 2023

"In addition to writing three critically acclaimed cookbooks, Hercules is also credited with the launch of the #CookForUkraine movement. In this deeply personal cookbook, she pulls inspiration from her childhood in Ukraine, as well her years spent in Cyprus, Italy, and England."
— Thrillist, The 11 Most Exciting Cookbooks to Look Out for this Fall

"Centering comfort and connection, acclaimed Ukranian chef Olia Hercules weaves influence from her childhood in Eastern Europe and years in Cyprus, Italy, and London into 100 recipes. Dishes like radish and pomegranate salad, roasted potatoes topped with feta, yogurt, dill, and chopped carrots, and baked apples stuffed with creamy tvorog or ricotta get woven together with stories that make her fourth cookbook her most personal yet."
— Epicurious

"Hercules' very honest, very human confessions and personal stories are endearing, and they engender trust in her recipes and with her as a person. Even if you don't cook any of the 100 dishes offered in Home Food: 100 Recipes to Comfort and Connect, the book is worth owning for its profound insights into small things that have great meaning in life. Hercules' beautiful, affirming tales celebrate our humanity, while her mostly easy recipes open the door to a new palette of cooking flavors and techniques."
— New York Journal of Books

"The idea of home is dynamic to acclaimed Ukrainian chef and food writer Olia Hercules. Drawing from her experiences of life in Ukraine, Cyprus, and England, Hercules' newest cookbook, Home Food, is her most personal yet. We spent the year reading it as if it were a page-turning novel. And when those very human, heartwarming stories are followed by a recipe for peanut dulce de leche cake? We're all in."
— Delish's Best Cookbook of 2022