Canning and Preserving for Beginners: The Essential Canning Recipes and Canning Supplies Guide (Paperback)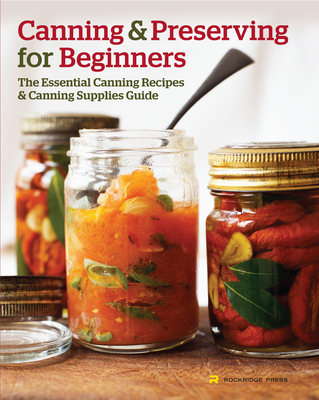 $9.99
Not currently in store. Available to ship from distributor's warehouse.
Description
---
"Whether you are a local food movement enthusiast or just starting out on the food preservation journey, this is the resource to have."--Eric, reader
Canning and preserving is a great solution to always having local, seasonal, and budget-friendly food in your kitchen. But unless you learned how to do it in your grandmother's kitchen, it can be difficult--not to mention dangerous--to know where to start. Canning & Preserving for Beginners explains the process of home canning with step-by-step directions and easy, flavorful canning recipes. Experience how enjoyable and delicious it can be to eat seasonally with this simple and straightforward reference.
Canning & Preserving for Beginners will help you quickly become an expert in home canning with:
70 Easy Recipes for canning and preserving the perfect pickles, relishes, jams and jellies throughout the year
Step-by-Step Guidelines for canning techniques, such as water bath canning and pressure canning
Tips and Tricks saving time and safely canning your favorite fruits and vegetables
Canning recipes include: Classic Dill Pickles, Pickled Green Beans, Strawberry Jam, Apple Butter, Onion Relish, Mango Salsa, Honey-Pear Jelly, Light Blueberry-Almond Fruit Spread, Carrots, Asparagus Spears, Chili con Carne, Vegetable Soup, and much more
"...filled with clear and easy to follow information and tried and tested recipes that will put your canning nerves at ease. "--Maria Slavik, Sweet Domesticity Blog