Mad, Bad & Dangerous to Know (Hardcover)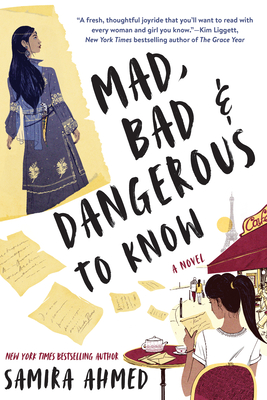 $18.99
Not currently in store. Available to ship from distributor's warehouse.
Spring 2020 Kids Indie Next List
---
"For 17-year-old Khayyam, her family's annual summer in Paris should be a delight. But she's reeling from a disastrous scholarship application and completely unprepared to meet a handsome stranger. Their shared adventure intersects with the life of a 19th-century Muslim woman, the artist Delacroix, and the author Dumas. What could be just a meet-cute romance gets added depth with well-integrated reflections on immigrants, mixed-race heritage, and the silencing of women's voices."
— Jan Blodgett, Main Street Books (NC), Davidson, NC
Description
---
Told in alternating narratives that bridge centuries, the latest novel from New York Times bestselling author Samira Ahmed traces the lives of two young women fighting to write their own stories and escape the pressure of cultural expectations in worlds too long defined by men.

It's August in Paris and 17-year-old Khayyam Maquet—American, French, Indian, Muslim—is at a crossroads. This holiday with her parents should be a dream trip for the budding art historian. But her maybe-ex-boyfriend is probably ghosting her, she might have just blown her chance at getting into her dream college, and now all she really wants is to be back home in Chicago figuring out her messy life instead of brooding in the City of Light.

Two hundred years before Khayyam's summer of discontent, Leila is struggling to survive and keep her true love hidden from the Pasha who has "gifted" her with favored status in his harem. In the present day—and with the company of a descendant of Alexandre Dumas—Khayyam begins to connect allusions to an enigmatic 19th-century Muslim woman whose path may have intersected with Alexandre Dumas, Eugène Delacroix, and Lord Byron.

Echoing across centuries, Leila and Khayyam's lives intertwine, and as one woman's long-forgotten life is uncovered, another's is transformed.
About the Author
---
Samira Ahmed was born in Bombay, India, and grew up in a small town in Illinois in a house that smelled like fried onions, cardamom, and potpourri. A graduate of the University of Chicago, she's lived in Vermont, Chicago, New York City, and Kauai, where she spent a year searching for the perfect mango. Follow her on Twitter and Instagram @sam_aye_ahm.
Praise For…
---
An NPR Favorite Book of 2020
A Forbes Best YA Book of 2020
A Penn GSE Best Book for Young Readers of 2020
An ABA Indie Bestseller
An ABA Spring 2020 Kids' Indie Next Pick
A Goodreads Most Anticipated for April
A YALSA Best Fiction for Young Adults 2021 Nominee 

Praise for Mad, Bad & Dangerous to Know

"Lively and passionate, this book tackles issues of cultural identity and examines which stories are passed down through time – all while indulging in a romantic amateur sleuthing romp through the City of Lights." 
—NPR.org

"A page-turner."
—Forbes 

"A sweeping, feminist novel about equality and identity."
—Teen Vogue

"Engrossing."
—Ms. Magazine

"A fierce, feminist coming-of-age story."
—Bustle

"Khayyam is in Paris for the summer, fleeing academic and emotional disaster. When she meets Alexandre, a descendant of Dumas, she is drawn into a whirlwind romance—and a quest to solve a historical mystery. But are Alexandre's motives all they seem? A smart, feminist holiday romance, asking some pointed questions about whose voices are honoured by history."
—The Guardian

"An engrossing new novel . . . it'll sweep you off your feet."
—Carole Barrowman, The Morning Blend

"There are, at a minimum, two ways to read Mad, Bad & Dangerous to Know. The first is as an escapist young adult romance, with a smart teenage girl, a sort-of ex who ghosted her, a hot French teenager from the Dumas family, parents safely tucked in a Paris apartment, plenty of social media, and Paris in August. Then there's the other, as a hard-hitting work of intersectional feminism and anti-oppression and post-colonialism and history blended with art, wrapped up in the story of one incredible August in Paris . . . I don't often find a book that simultaneously transports me to the best parts of my childhood while taking me on an anti-colonialist, anti-imperialist, intersectional feminist wish fulfillment fest, but Samira Ahmed's Mad, Bad & Dangerous to Know manages just that." 
—Third Coast Review

"In this her most ambitious novel to date, Ahmed makes art history accessible and uses this opportunity to discuss orientalism and Western narratives about Islam and 'the East' that have been presented in art and literature . . . But she never lets the serious subject matter get in the way of the fun and adventure, especially when breaking into old, abandoned Parisian buildings."
—Asian Review of Books

"The two women's stories are told in a way that amplifies both of their voices into something unforgettable."
—Kim Bongiorno, Momtastic 

"A wonderful dual POV novel which focuses on the contemporary-set treasure hunt led by Khayyam and a history-embracing tale of Leila. This standalone is filled with history, romance, French pastries, and more, while being both thought provoking and moving."
—The Young Folks

"Ahmed's brilliant novel shows that the familiar journey of being smart, in love, and a little lost is as profound now as it was in the 19th century. Add in a romance in the hidden gardens of Paris and an explosive trove of lost historical letters from a woman almost forgotten and you've got a fresh, thoughtful joyride that you'll want to read with every woman and girl you know."
—Kim Liggett, New York Times bestselling author of The Grace Year  

"Rich, emotional, and inspirational. Samira Ahmed does it again with a work of art that reads like an anthem for the voices silenced throughout history, and a call to raise our own. Mad, Bad & Dangerous to Know is a deeply thought-provoking, immersive love story to the hidden histories that dwell within us—and like any good story, it will live in your heart for years to come."
—Farah Naz Rishi, author of I Hope You Get This Message

"Sharp, insightful and full of complex history and connections, Mad, Bad & Dangerous to Know weaves a tapestry between today and the past, creating a story unlike any we've seen in modern YA fiction and cementing Samira Ahmed's place as a must-read author."
—Sona Charaipotra, author of Symptoms of a Heartbreak

"Another interesting exploration of identity wrapped up in a unique story . . . [Ahmed] continues to delight."
—Eastern Eye

"A lush YA novel."
—Popsugar

"A thoughtful and compelling book about history and the people whose lives are invisible . . . Though romance adds an interesting personal (and modern day) element to Khayyam's story, Ahmed's writing shines first and foremost where she has written a complex mystery and social commentary about women in history."
—The Nerd Daily

"Samira Ahmed spins two mysterious and thrilling tales . . . Once again, the New York Times bestselling author of Love, Hate and Other Filters shows the similarities and overlaps of cultures and religions that we would never think to link together."
—Book Riot

"There's something for everyone: Romance, nerdy art history, a summer in Paris, and a slowly unraveling mystery . . . it's a unique and inspiring story that manages to pull off something incredible."
—Rich in Color

"An ambitious project . . . a pastry-rich and knowledgeable portrait of Paris, with details that redolently evoke but never overwhelm, and Khayyam is an interesting and cosmopolitan protagonist (she's French, American, and Muslim and comments thoughtfully on the contradictions and intersections of those cultures) with an unusual vocation. Altogether, it's a Parisian romance with a seasoning of intrigue, a dollop of feminism, a soupçon of caper action, and a lashing of scholarship."
—Bulletin of the Center for Children's Books

"Ahmed explores weighty themes including Orientalism, women silenced by history, and the responsibility of sharing their unheard voices . . . An entertaining tale that will appeal most to fans of art history and literature."
—Kirkus Reviews 

"Ahmed pulls readers into a picturesque Parisian setting that brings the mellifluous language and customs to life, which makes a perfect backdrop for an art mystery . . . With a determination to give voice to a woman whose story has been erased from the pages of history, Ahmed offers yet another well-wrought and dynamic novel." 
—Booklist

"A multi- faceted blend of contemporary and historical intrigue."
—Publishers Weekly

"A whirl through 19th-century hidden drawers, libraries, salons, letters, hashish clubs, mansions, and tales of squandered monies with a descendant of Alexander Dumas and a determined young Muslim woman, on a quest to determine who has the right to #writeherstory. Perfect for romantically and historically inclined teens."
—School Library Journal

"If I wasn't already a librarian, archivist and history lover I certainly would want to be after reading this. Mad, Bad & Dangerous to Know is a lovely book about history, secrets, loyalty and life's journey. Ahmed successfully captures the thrill of solving a good old fashioned mystery with sound research, breaking and entering, and a little bit of Google. I can't wait for the movie!"
—Amy Vidlak Girmscheid, Director, Sandwich Public Library District

 "Ahmed blends art history, romance, passion and purpose as vibrant brush strokes on a canvas in this passionate narrative about the power of the past to influence the present."
—Julia Torres, Teacher/Librarian, Denver Public Schools
 
"Mad, Bad & Dangerous to Know follows two Muslim girls, separated by centuries, as one tries to track down the missing history of the other. Readers will be entranced as Khayyam puts together the pieces of Leila's story . . . Samira Ahmed deftly weaves history, classic literature, an art mystery, and a complicated romance."
—Rachel Strolle, Teen Librarian, Glenside Public Library District

"Khayyam Maquet is determined to make her mark as an art historian, but she finds herself disillusioned and distracted by both a scholarly setback and a not-quite boyfriend who is suddenly ghosting her. Her annual family visit to Paris doesn't feel like much of a vacation until she literally runs into the dreamy descendant of the novelist at the center of her research who presents her with a priceless opportunity. Art history puzzles and romance abound in this book, and I loved the intertwining narratives of Khayyam's adventures and a mysterious 19th-century woman who may be the key to deciphering everything. Khayyam is a top-tier heroine and her infectious enthusiasm for both art history and making sure that marginalized voices get a chance to tell their own stories are the beating heart of this book."
—Julia Steiner, Book Cellar (Chicago, IL)

Praise for Samira Ahmed
 
"Heartfelt . . . Ahmed deftly and incisively explores the complicated spaces between 'American and Indian and Muslim' in modern America."
—Teen Vogue​

"A compulsively readable, totally adorable coming-of-age rom-com with a serious, and timely, side."
—Cosmopolitan 
 
"This smart, heartbreaking, honest debut novel is as timely as it is hopeful. Ahmed tackles weighty issues with thoughtfulness and flair. I was completely swept away."
—Sandhya Menon, New York Times bestselling author of When Dimple Met Rishi
 
"Love, Hate & Other Filters made me laugh and made me cry . . . [Maya's story] is one that will stay with me forever. A much-needed addition to the young adult canon."
—Aisha Saeed, author of Written in the Stars