Dinner with Edward: A Story of an Unexpected Friendship (Paperback)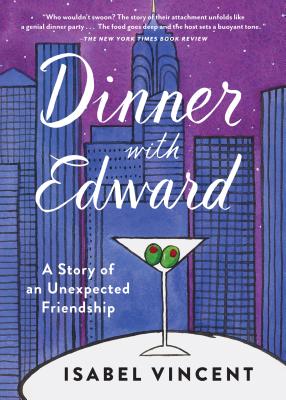 Find us on Bookshop.org to order!
Description
---
"I loved every moment of this book . . . Everyone deserves their own Edward--and everyone deserves to read this book." —Susannah Cahalan, bestselling author of Brain on Fire
 
When Isabel meets Edward, both are at a crossroads: he wants to follow his late wife to the grave, and she is ready to give up on love. Thinking she is merely helping Edward's daughter--who lives far away and has asked her to check in on her nonagenarian dad in New York--Isabel has no idea that the man in the kitchen baking the sublime roast chicken and light-as-air apricot soufflé will end up changing her life.

As Edward and Isabel meet weekly for the glorious dinners that Edward prepares, he shares so much more than his recipes for apple galette or the perfect martini, or even his tips for deboning poultry. Edward is teaching Isabel the luxury of slowing down and taking the time to think through everything she does, to deconstruct her own life, cutting it back to the bone and examining the guts, no matter how messy that proves to be.

Dinner with Edward is a book about love and nourishment, and about how dinner with a friend can, in the words of M. F. K. Fisher, "sustain us against the hungers of the world."

"A rare, beautifully crafted memoir that leaves you exhilarated and wanting to live this way. Edward is a marvel of resilience and dignity, and Vincent shows us that the ceremony of food is really a metaphor for love. The key is to live your life generously." —Rosemary Sullivan, author of Stalin's Daughter

"Isabel Vincent delves deeply into matters of the kitchen and the heart with equal and unabashed passion . . . Rich with description of meals savored, losses grieved, and moments cherished, it's at once tender, revealing, and utterly enchanting!" —*Gail Simmons, judge on Bravo's Top Chef and author of Talking with My Mouth Full  

"One of the most stylish and emotional works of nonfiction I have ever read. I savored every page." —Bob Colacello, author Holy Terror: Andy Warhol Close Up

"Although the food (I am partial to the roast chicken, lovingly described) is excellent, it is the charming and effortlessly wise company that makes this sweet read a charming way to pass a day." —George Hodgman, New York Times bestselling author of Bettyville

"Delightfully combining the warm-heartedness of Tuesdays with Morrie with the sensual splendor of Julie and Julia. This is a memoir to treasure." —Booklist, starred review
About the Author
---
Isabel Vincent is an investigative reporter for the New York Post. Her work has appeared in magazines and newspapers all over the world, including the New Yorker, the New York Times Magazine, L'Officiel, and Time. She is the author of four books: Gilded Lily: Lily Safra: The Making of One of the World's Wealthiest Widows; Bodies and Souls: The Tragic Plight of Three Jewish Women Forced into Prostitution in the Americas; Hitler's Silent Partners: Swiss Banks, Nazi Gold and the Pursuit of Justice; and See No Evil: The Strange Case of Christine Lamont and David Spencer. The recipient of numerous journalism honors, including the Canadian Association of Journalist's Award for Excellence in Investigative Journalism, she has been a journalism fellow at Massey College, University of Toronto. Vincent grew up in Toronto and lives in New York.
Praise For…
---
"[Isabel's] tonic is the example Edward sets of active engagement with the world and its delights, food being chief among them. Who wouldn't swoon over his dinners? . . . The story of their attachment unfolds like a genial dinner party where the food goes deep and the host sets a buoyant tone." —The New York Times Book Review

"Isabel Vincent delves deeply into matters of the kitchen and the heart with equal and unabashed passion . . . Rich with description of meals savored, losses grieved, and moments cherished, it's at once tender, revealing, and utterly enchanting!" —Gail Simmons, judge on Bravo's Top Chef and author of Talking with My Mouth Full

"[A] sweet memoir. With each roasted chicken and apple galette, Edward teaches Vincent not only how to cook, but how to savor life."—RealSimple.com

"Life‑affirming, with no soppy sentiment. We all should have an Edward . . . [Vincent] does share a few of his cooking secrets. The one for flawless scrambled eggs (I tried it, with great success) is alone worth the price of the book."—Toronto Star

"Although the food (I am partial to the roast chicken, lovingly described) is excellent, it is the charming and effortlessly wise company that makes this sweet read a charming way to pass a day." —George Hodgman, New York Times bestselling author of Bettyville
 
"This is a book full of life lessons, a reminder that no matter how old we grow, we still have much to share, and to learn."—Library Journal
 
"Delightfully combining the warm‑heartedness of Tuesdays with Morrie with the sensual splendor of Julie and Julia. This is a memoir to treasure." —Booklist, starred review
 
"Food lovers will swoon from the first chapter . . . It is easy to fall deeply for Edward's tender heart as Vincent learns how he has savored his life, and over time, begins to create a life that's more inviting and full for herself. Readers will finish the book satisfied, yet wanting more."—Publishers Weekly
 
"A rare, beautifully crafted memoir that leaves you exhilarated and wanting to live this way. Edward is a marvel of resilience and dignity, and Vincent shows us that the ceremony of food is really a metaphor for love. The key is to live your life generously." —Rosemary Sullivan, author of Stalin's Daughter
 
"One of the most stylish and emotional works of nonfiction I have ever read. I savored every page." —Bob Colacello, author of Holy Terror: Andy Warhol Close Up