Fourth City: Essays from the Prison in America (Paperback)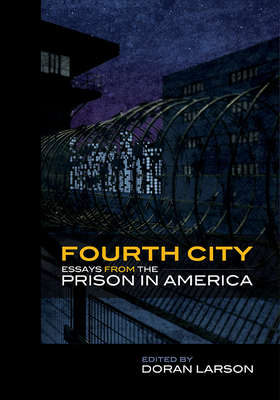 Find us on Bookshop.org to order!
Description
---
At 2.26 million, incarcerated Americans not only outnumber the nation's fourth-largest city, they make up a national constituency bound by a shared condition. Fourth City: Essays from the Prison in America presents more than seventy essays from twenty-seven states, written by incarcerated Americans chronicling their experience inside. In essays as moving as they are eloquent, the authors speak out against a national prison complex that fails so badly at the task of rehabilitation that 60% of the 650,000 Americans released each year return to prison. These essays document the authors' efforts at self-help, the institutional resistance such efforts meet at nearly every turn, and the impact, in money and lives, that this resistance has on the public. Directly confronting the images of prisons and prisoners manufactured by popular media, so-called reality TV, and for-profit local and national news sources, Fourth City recognizes American prisoners as our primary, frontline witnesses to the dysfunction of the largest prison system on earth. Filled with deeply personal stories of coping, survival, resistance, and transformation, Fourth City should be read by every American who believes that law should achieve order in the cause of justice rather than at its cost.
About the Author
---
Doran Larson is Professor of English and Creative Writing at Hamilton College in New York.
Praise For…
---
This volume is the first to assemble the voices of that singular metropolis in a manner that serves as a testament to the lives lived by unprecedented numbers of people in cages. Practical, poetic, wise, informed, wounded, alive, in tones of despair and hard-earned hope, they illuminate the arc of everyday life in the world's largest carceral regime with laser precision . . . This volume should be in classrooms, libraries, bookstores, prisons, and on the bookshelf of every citizen.
—Michelle Brown, Department of Sociology, University of Tennessee, and Book Review Editor, Theoretical Criminology

After decades of exploding prison populations, the Fourth City reaches into every part of America. These stories of its survivors are critical for anyone who wants to understand what mass incarceration has done to this country.
—Jonathan Simon, Professor of Law, UC Berkeley

Behind bars there is an alternative social order, and that twisted order has everlasting psychological effects on the person that has to endure/survive a segregated community with little or no rehabilitation. Larson has collected a mosaic of language that helps to explicate the failures and misconceptions of the Prison Industrial Complex in the United States. If it is true that one can always tell the state of a nation by the literature it produces, then the reader of Fourth City most certainly will come to understand what really goes on behind the circular razor wire.
—Randall Horton, poet and author of The Lingua Franca of Ninth Street and Roxbury

This book offers an inside perspective that is unparalleled in its contribution to our understanding of imprisonment. The organization makes sense and offers a valuable framework for this comprehensive treatment.
—Austin D. Sarat, William Nelson Cromwell Professor of Jurisprudence and Political Science and Director of the Mellon Project on Student-Faculty Research, Amherst College

Doran Larson and his team of researchers have compiled the largest collection of contemporary American prison narratives ever recorded. The incarcerated speak for themselves, but their numbers are telling in a more important way. They expose a nation that incarcerates a higher percentage of its citizens than any other country in the world and in conditions that no human being should have to endure. Fourth City gives us an enormous city from hell hidden in our midst and asks, what are we willing to do about it?
—Robert A. Ferguson, George Edward Woodberry Professor in Law, Literature, and Criticism, Columbia University