Multimedia Learning Theory: Preparing for the New Generation of Students (Hardcover)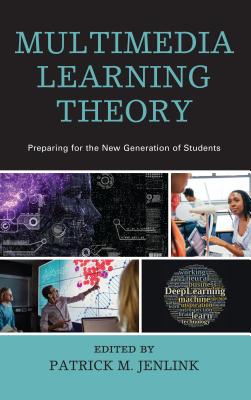 Not currently in store. Available to ship from distributor's warehouse.
Description
---
This book offers a primary focus on the meaning and importance of multimedia learning theory and is application in educator preparation. Integrating multimedia learning theory into preparing the next generation of educators for their role in the education of the next generation of students is presented as an important consideration for the future of our educational systems and society. As the use of digital technologies and Web 2.0 becomes more prevalent and the world becomes more infused with multimedia, it is important to ask to what extent, if at all, such developments change the forms and nature of knowledge. Teaching and learning in this digital, multimedia environment is increasingly challenged as the neomillennial generation enters schools and colleges having grown up with digital technologies defining their culture and shaping their cognitive and social interactions. Multimedia, for the neomillennial generation, is deeply embedded in their sensory and cognitive patterns; the neomillennials see and understand media in more sophisticated ways than their parents and the generations of society that preceded them.
About the Author
---
Patrick M. Jenlink is Regents Professor, the E.J. Campbell Endowed Chair: Professor of Educational Leadership, and Professor of doctoral studies in the Department of Secondary Education and Educational Leadership. His experience during over four decades as an educator includes STEM teaching, building administrator, school district superintendent, technology professor at Northwestern Oklahoma State University, professor of computer and software applications at Western Michigan University, an evaluator and research consultant on National Science Foundation funded Statewide Systemic STEM initiative in Michigan, senior researcher on funded STEM initiatives in Oklahoma with NASA and Oklahoma State University, and author of multiple grants in Oklahoma and Michigan focused on technology innovation in K-12 schools with a focus on use of simulations in advancing educator knowledge and pedagogy and advanced application of digital literacies. Dr. Jenlink's research interests include media- and digital-based learning, multimodal literacies, meta-disciplinarity and pedagogy, educator preparation, and leadership for STEM innovation. He has edited and/or authored 12 books and authored over 70 book chapters. As well, he has authored and published 175 peer-refereed articles, and over 200 hundred peer-refereed conference papers. His most recent book is STEM Teaching: An Interdisciplinary Approach.