Practical Solutions to Practically Every Problem: The Survival Guide for Early Childhood Professionals (Paperback)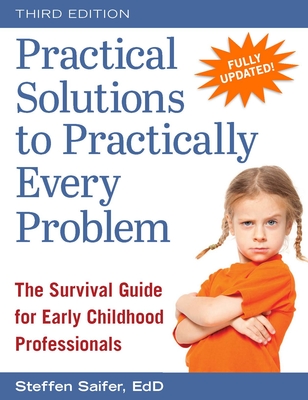 $41.94
Not currently in store. Available to ship from distributor's warehouse.
Description
---
An encyclopedic how-to guide for the universal early childhood program problems.
Practical Solutions to Practically Every Problem attempts to provide solutions to every possible problem faced by early childhood teachers--before teachers encounter them. This classic resource has been updated to focus on current issues faced by educators, including teaching twenty-first century life skills, technology, and cultural responsiveness. This easy-to-use guide gives you quick practical help, now
Educators will save time and energy with over eight hundred solutions to two hundred problems, including:
Daily dilemmas and classroom issues
Partnering with families to raise happy children
Dealing with problematic behaviors from co-workers
Learning to take care of yourself to prevent burn-out
Steffen Saifer, EdD, a former early childhood teacher and Head Start director and trainer, is currently an international consultant and writer based in Spain. He has worked on projects for the Open Society Foundation, The World Bank, and UNICEF, in many countries including Bangladesh, Russia, and Zimbabwe. Dr. Saifer works with programs on culturally responsive curriculum development and implementation and with universities to develop graduate programs for ECD teachers, administrators, and leaders. When in the United States, Saifer resides in Portland, Oregon
About the Author
---
Steffen Saifer, Ed.D., is currently an international consultant and writer based in Spain. Among recent projects, he has facilitated the development of a national kindergarten curriculum in the Republic of Georgia for UNICEF, and co-developed and helped to implement a master's degree program in early childhood leadership in Russia. Steffen has worked with programs in Belarus, Bangladesh, The Gambia, Malawi, Zambia, and Zimbabwe, among others. Earlier in his career he was an early childhood teacher, program director, college instructor, and education specialist for Head Start programs in four Pacific Northwest states. Steffen's primary interests and expertise focus on the role of play in development and education, the training of early childhood professionals, and culturally responsive early childhood curriculum.