California Mushrooms: The Comprehensive Identification Guide (Hardcover)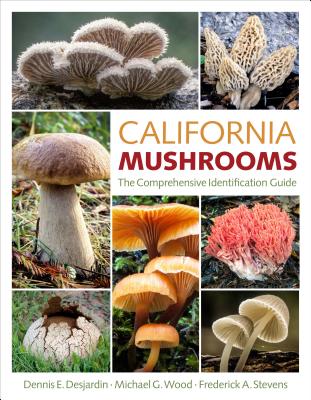 Find us on Bookshop.org to order!
Description
---
Winner of the CBHL Award of Excellence

California is one of the most ecologically rich and diverse regions of North America, and home to hundreds of species of mushrooms. In California Mushrooms, mycologist experts Dennis Desjardin, Michael Wood, and Fred Stevens provide over 1100 species profiles, including comprehensive descriptions and spectacular photographs. Each profile includes information on macro- and micromorphology, habitat, edibility, and comparisons with closely related species and potential look-alikes. Although the focus of the book is on mushrooms of California, over 90% of the species treated occur elsewhere, making the book useful throughout western North America. This complete reference covers everything necessary for the mushroom hunter to accurately identify over 650 species.
About the Author
---
Dennis E. Desjardin teaches biology at San Francisco State University. He received a master's degree from San Francisco State University and a PhD from the University of Tennessee. Desjardin is a fellow of the Mycological Society of America, and a winner of the Alexopoulos Prize for outstanding research, the William H. Weston Award for teaching excellence, and a fellowship with the California Academy of Sciences. He has published over 140 scientific papers on the taxonomy and evolution of mushroom-forming fungi.
Michael G. Wood, a California native, is a computer consultant by profession and a mycologist and photographer by obsession. He is a past president of the Mycological Society of San Francisco (MSSF) and chair of its systematics committee; the publisher and webmaster for MykoWeb (mykoweb.com); and the former webmaster for the MSSF and the North American Mycological Association (NAMA) websites. Wood has been an avid mushroom collector, photographer, and taxonomist for over 30 years. His mushroom photographs have been published in many scientific journals, books, magazines, newspapers, and websites. He has led numerous workshops and countless forays for the MSSF and others, and is currently collaborating on a second book, Mushrooms of the Great Smoky Mountains.
Frederick A. Stevens has a doctorate in botany from UCLA. He has photographed and studied the macrofungi of the San Francisco Bay Area for more than two decades, with a special interest in gasteromycetes and the genus Agaricus. Stevens is the coauthor, with Michael G. Wood, of The Fungi of California (californiafungi.com), and a past president of the Mycological Society of San Francisco. He has led numerous mushroom walks and consults with physicians and veterinarians on mushroom poisonings.
Praise For…
---
"An excellent addition to the mushroom literature for the West Coast and should be in the library of all who would attempt to identify the mushrooms of California or surrounding areas." —The Mycophile 

"This book is useful well beyond discussing California mushrooms. You get a good comprehensive overview of the world of mycology, with all the types of fungi broken into their categories and with keys to help you identify the mushroom in hand." —American Survival Guide Magazine