The Little Big Book for Grandmothers, revised edition (Hardcover)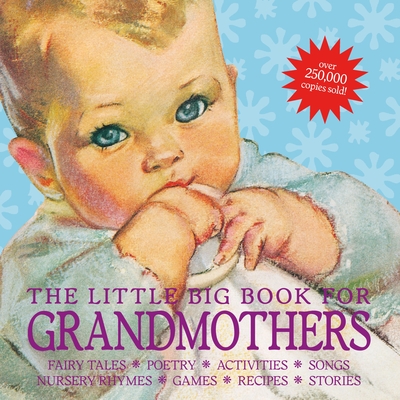 $24.95

Not currently in store. Available to ship from distributor's warehouse.
Description
---
To celebrate more than 250,000 copies sold, The Little Big Book for Grandmothers is back in an updated edition with a revised foreword, new jacket design, new endpapers, and a new ISBN. This is a charming book filled with fairy tales, poetry, nursery rhymes, song, stories, words of wisdom, activities, and recipes that are sure to enchant and delight. The Little Big Book for Grandmothers is brimming with many of the classic and favorite things grandmothers grew up with, and illustrated with charming vintage art she is sure to adore from artists such as Jessie Wilcox Smith and Kate Greenaway.
This packed anthology includes:
-18 fairy tales such as The Little Mermaid, Thumbkin, Snow White and Rose Red, The Fisherman and His Wife, and Rapunzel
-19 poems by e.e. cummings, Robert Frost, Ogden Nash, Shel Silverstein, and others
-13 nursery rhymes including Goosey, Goosey, Gander, and Old Mother Hubbard
-15 songs from "Polly Wolly Doodle" and "Billy Boy" to "Little Red Caboose" and "Baby Beluga"
-26 finger games and old-fashioned games such as Grandma's glasses and Tiddlywinks
-More than 30 activities from embroidery and making a family quilt, to Little Red Riding Hood Puppet Show and holiday activities
-More than 30 recipes to indulge and nourish from Ice Cream Sundaes and Strawberry Shortcake to Chicken Pot Pie and Momma Bread
Includes 100 full-color illustrations and 150 line illustrations
About the Author
---
ALICE WONG is a project director at Welcome Books. She has produced or edited numerous titles, including The Little Big Book for Moms and The Little Big Book for Grandmothers. She has three daughters, and lives in New York City.

LENA TABORI is the publisher of Welcome Books. In her long and storied career in illustrated book publishing she has conceived and edited numerous title, including Love: A Celebration in Art and Literature, and various titles in The Little Big Book series, including The Little Big Book for Moms.