Seven Fathers (Hardcover)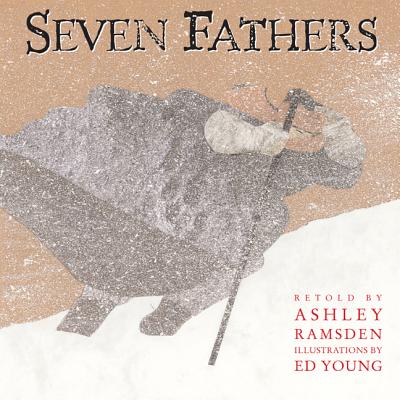 Email orders@tridentbookscafe.com or call for price
Description
---
In the midst of a fearsome blizzard, a weary traveler seeks refuge from the cold.
"Good evening, Father, I'm so glad I found you. Would you, by any chance, have a room where I could spend the night?"
"Oh," said the old man. "I'm not the father of the house, You'll have to ask my father. He's around back, in the kitchen."
And so the travler is sent on a journey within his journey, arriving at a surprising destination.
Ashley Ramsden's eloquent retelling of a Norwegian folktale is handsomely complemented by Caldecott Medalist Ed Young's masterful cut paper collages in this unusual and haunting book, Seven Fathers.
About the Author
---
Ashley Ramsden is the founding director of the School of Storytelling in Sussex England, and co-author with Nancy Mellon of the award-winning book Body Eloquence: The Power of Myth and Story to Awaken the Body's Energies. Ashley travels the world with his acclaimed performances and workshops.

Ed Young was born in China and spent his childhood in Shanghai. The illustrator of many books for children, he has received numerous awards, including a Caldecott Medal for his book Lon Po Po, and two Caldecott Honors for The Emperor and the Kite and Seven Blind Mice. He was twice nominated for the Hans Christian Andersen Medal, the highest international recognition given to children's book authors and illustrators who have made a lasting contribution to children's literature. Ed Young lives in Hastings-on-Hudson, New York.
Praise For…
---
"Stunning in its execution, the artwork elevates this graceful tale to new heights, delivering an original, thought-provoking addition to folktale collections." —Starred review, Kirkus Reviews
"The story brims with eccentric charms, whether in the dashes of suspense and levity that lace Ramsden's prose or in Young's collages, which combine unexpected photo elements with freely outlined figures…It's Scandinavian magical realism, handsomely realized." —Starred review, Publishers Weekly
"Like the words, the images combine straightforward representations with more enigmatic symbolism, such as a musical horn crafted from a bird's-eye photo of suburban development. This story works on multiple levels, creating an appealing package that combines subtle mysteries with a well-spun tale." —Booklist
"Striking collage art accompanies a fluid retelling of a lesser-known Norwegian folktale originally collected by Asbøjrnsen and Moe… This visually stunning retelling will be best appreciated by older readers who can appreciate the spiritual underpinnings of the tale." —School Library Journal