How to Survive a Horror Movie (Paperback)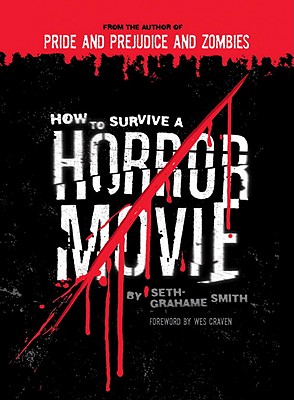 Description
---
Be Afraid. Be Very Afraid.
 
From ghosts, vampires, and zombies to serial killers, cannibalistic hillbillies, and haunted Japanese videocassettes, How to Survive a Horror Movie shows how to defeat every obstacle found in scary films. Readers will discover:
 
     •  How to Perform an Exorcism
     •  What to Do If You Did Something Last Summer
     •  How to Persuade the Skeptical Local Sheriff
     •  How to Vanquish a Murderous Doll
     •  How to Survive an Alien Invasion
     •  How to Tell If You've Been Dead Since the Beginning of the Movie
 
and much, much more. Complete with useful instructions, insane illustrations, and a list of 100 important films to study, How to Survive a Horror Movie is essential reading for prom queens, jocks, teenage babysitters, and anyone employed by a summer camp.
About the Author
---
Seth Grahame-Smith is the author of the New York Times best seller Pride and Prejudice and Zombies. He doesn't know it yet, but he's been dead since the beginning of the movie.
Illustrator Nathan Fox lives in Kansas City, Missouri, with his wife and daughter. His work has appeared in the New York Times, The New Yorker, Rolling Stone, Wired, Print, Spin, and countless other national publications.
Praise For…
---
"Grahame-Smith's little volume is just like a horror movie: entertaining and…a fun afternoon's diversion."—The Hartford Courant

"If you have snakes on your plane, did something last summer or suspect you've been dead since the beginning of the movie, then this is the book for you."—McClatchy-Tribune

"How to Survive a Horror Movie is essential reading for horror movie buffs of all ages."—Think Geek