Seacrow Island (Hardcover)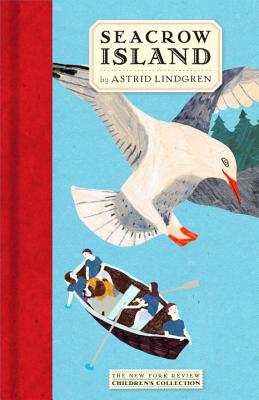 Email orders@tridentbookscafe.com or call for price
Hard to Find - Email orders@tridentbookscafe.com for availability
Description
---
Tiny Seacrow Island is one of hundreds of islands in the sparkling blue of the Baltic Sea. Though small, it has everything you'd want in an island: woods to wander in, flowers to pick, fish to catch, boats to sail in, all kinds of animals. But it doesn't have very many young people. So when the four Melkerson kids and their father move into Carpenter's Cottage one June day, they're immediately welcomed by the resourceful islanders: Johan and Niklas Melkerson, at twelve and thirteen, are natural companions for adventurous Freddy and Teddy (girls exactly their age); dreamy Pelle, the baby of the family, gets up to trouble with bossy Tjorven and fanciful Stina; and ever-responsible Malin, who at nineteen looks after her scatterbrained father as well as her brothers, catches the eye of all the island's young men. Before long Seacrow Island and Carpenter's Cottage (tumbledown and leaky though it may be) have become a real home for the Melkersons. 

Seacrow Island is a remarkable story, filled with sweetness and sorrow, humor and suspense, and peopled with the vivid, unexpected, wonderfully winning characters we've come to expect from the creator of the unforgettable Pippi Longstocking.
About the Author
---
Astrid Lindgren (1907–2002) was born in Vimmerby, Sweden, and grew up with three siblings on a family farm in the Småland countryside, a setting that later formed the backdrop for many of her books. In 1926 she moved to Stockholm where she found work as a secretary. She did not begin writing until 1944 when, immobilized with a sprained ankle, she began to set down the Pippi Longstocking stories she had invented over the years to entertain her daughter, Karin. Her first book (Britt-Mari Opens Her Heart) was published by Rabén & Sjögren that same year, followed by Pippi Longstocking in 1945. Free-spirited and supernaturally strong in all respects, Pippi was an immediate favorite of Swedish schoolchildren, and her popularity only increased with the tales of her adventures that followed. In 1946, Lindgren became an editor and then the head of the children's book department at Rabén & Sjögren, a role she held for the next twenty-four years, living in Stockholm and spending summers on her beloved island of Furusund in the Stockholm archipelago, where Seacrow Island is set. After the Pippi series, Lindgren wrote many fairy tales and picture books, in addition to further chapter books, including Mio, My Son (1954; published by The New York Review Children's Collection) and Ronia, the Robber's Daughter (1981). In addition to writing more than forty children's books, Lindgren published and produced plays and screenplays, and was politically active and lobbied successfully for what became the Animal Protection Act of 1988. She received the Swedish Academy's Gold Medal in 1971 for her contribution to children's literature, and the Dag Hammarskjöld Award (1984), Albert Schweitzer Medal (1989), and Right Livelihood Award (1994) for her humanitarian efforts. In 2003 the Swedish government created the Astrid Lindgren Memorial Award in her honor.
Praise For…
---
"Astrid Lindgren's Seacrow Island (1964), an idyll about a family and a village set in the Stockholm archipelago in the mid-twentieth century, has enchanted me...I liked it so much that I consumed it slowly, like a savored cake. A month later I read it again, perhaps even more deliberately. It is a beautiful book, rendered in an entirely fluent English translation by Evelyn Ramsden, and certainly for adult readers as well as the children to whom it could be read." —April Bernard, NYR Daily

"Evelyn Ramsden's peppy translation brings this gem to a new generation of English-speaking readers, and reminds us that simple pleasures are often the most memorable." —Literary Features Syndicate