Why Not Win?: Reflections on a Fifty-Year Journey from the Segregated South to America's Board Rooms - And What It Can Teach Us All (Hardcover)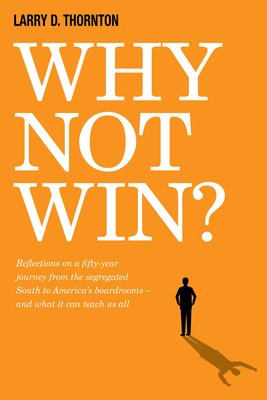 Find us on Bookshop.org to order!
Description
---
Aspiring business owners and executives seeking to climb to the next rung, young to mid-career professionals seeking tools for life achievement, and general readers interested in biographies of successful people will like Larry Thornton's Why Not Win?. The book is a front-row seat to how one man altered his thinking to transform his life. The book begins with his growing up with brown skin in the 1960s in segregated Montgomery, Alabama. A desegregation school pioneer, Thornton was a classroom failure until a perceptive English teacher showed him he had value and encouraged him to go to college. Like the educator who changed his life, Thornton became a classroom teacher. But budget cuts took his job, and he decided to rewrite his story using his artistic talent. Thornton's artistry and work ethic got him attention at Coca-Cola, both for the good and the bad. He had to figure out a way to navigate this new world, where higher-ups praised him but co-workers reminded him of his "blackness" by drawing a noose in his workstation. He persevered by learning to appreciate and embrace diversity, people resources, and conflicting opinions. While his success grew at Coca-Cola, Thornton did the unthinkable: set out to be the first African American to own a McDonald's franchise in Birmingham. This thorny journey was peppered with threats, attempts to thwart his mission and a marriage he could not keep from falling apart. He absorbed the "try, try and try again" motto, and came to see that failure was a prelude to feasting upon the sweet fruit of success. Thornton's own mother never had a checking account, but years after her passing he found himself on the board of directors for a major financial institution. He slowly became a part of a small fraternity of captains of industry and fought past guilt and insecurity to pave the way for others who look like him to join him at the table. Trying to fit into this new world, he learned that "Thank you," "Please," and "Excuse me" are perhaps three of the most powerful phrases in communication. Thornton made up his mind that he would spend each day on a mission to show his unbending gratitude for his life and its benefits by fostering a supreme attitude and maintaining consistency in vision, purpose, and an unwavering commitment to principles. Thornton's journey from Madison Park, Montgomery, has been a long one. Why Not Win? reflects on his most useful lessons and the anecdotes associated with them. If he were a Zen monk, his koan might well be: "Plan your past." By that he means, think ahead one day, one week, one year, even twenty years out, and decide today your desired outcome, and work for it. "Thank God for memories," he says; "Let's plan to make them pleasant ones.
About the Author
---
LARRY D. THORNTON has spent his life being the first African American to do many things -- the first to own a McDonald's franchise in Birmingham, to serve on the board of directors of one of the country's largest Coca-Cola bottling companies, to serve First Commercial Bank's board, and the first to be named president for the legendary The Club. He has forged a path toward greatness while many times being the only person in the room who looks like him. He is an expert on overcoming adversity while maintaining dignity. Thornton grew up in the modest Madison Park community of Montgomery, Alabama, where being black and poor were synonymous. At age 12, he was among the black students who integrated one of the city's white middle schools, thrusting him onto the front line of incessant racial attacks. That experience nearly hardened Thornton, but upon meeting his twelfth grade English teacher, Miss Nichols, that all changed. She saw something special in him and helped him see it, too. Thornton went on to college at Alabama State University and from there to forge a path toward ground-breaking achievements. Along the way, he developed a personal strategy for resiliency and success that he now shares with others who want a better, more fulfilling life.