Build Your Village: A Guide to Finding Joy and Community in Every Stage of Life (Paperback)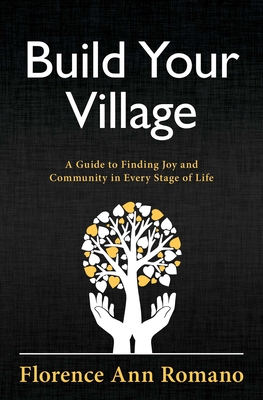 Find us on Bookshop.org to order!
Description
---
In this easy-to-read self-help manual sprinkled with relatable stories, Florence Ann Romano introduces the six roles commonly found in villages and provides a roadmap to help the reader build their own support systems.

Everyone has heard the phrase, "It takes a village," but how exactly do we find our village? Who is in it and what does it look like? Rethinking the relationships in your life, you may realize that even if you have a calendar filled with social plans, you still might not have your "village."

In Build Your Village, philanthropist and businesswoman Florence Ann Romano answers these questions and more, helping you to build lasting relationships with those in your life, dispel isolation, and improve your overall happiness and health. Each chapter helps you to foster the villager qualities within yourself and to find others who display these qualities. From identifying the six types of villagers needed to complete a fully functional village to what to do when you've lost your community, this book serves as a step-by step guide complete with quizzes, gut-check questions, and action steps as you learn the importance of support systems as well as how to nurture them and find meaningful connections.

Your village is waiting. Now it's time to go and find it.
About the Author
---
Florence Ann Romano is an author, philanthropist, businesswoman, and village and childcare advocate with a sparkling personality. With an eye for marketing, Romano flourishes as both an advisor for and the vice president of business strategy for Yakkety Yak, a strategic branding and content production company for businesses. Florence is proud member of the board of directors at the Children's Research Fund, an incredible organization that supports the pediatric research at Lurie Children's Hospital in Chicago. She is also a founding member of Sesame Street's Leadership Council and is on the board of directors for Female Strong, a non-profit organization that seeks to empower girls by teaching valuable leadership and business skills. After spending more than fifteen years as a childcare provider, during which she was known as the Windy City Nanny, Romano is the authority on childcare and family support in this new millennium and has more than five hundred media appearances discussing these topics. Born and raised just outside of Chicago, Romano earned a bachelor of science degree in performance theatre at Bradley University. Romano wants to show people that not only is the saying "It takes a village" true, but also how important the need for community is. For more information, please visit www.florenceannromano.com.


Praise For…
---
A versatile title that is relevant for many individual life situations. Excellent for libraries from big cities to rual towns.
— Elizabeth Chandler

"As Florence Ann Romano brilliantly points out in Build Your Village, community is a necessity to life—and we have the ability to create our own. Be true to yourself, reassess your values (and what you value in others), and infuse your life with support and compassion."
— Michael Clinton, former president and publishing director of HEARST Magazine, founder of ROAR Forward, and author of ROAR Into the Second Half of Your Life (Before It's Too Late), http://www.roarbymichaelclinton.com

"Florence Ann Romano's Build Your Village reminds me of the richness that others bring to our lives, as well as the value that we contribute to theirs."
— Barry Shore, The Ambassador of Joy™ and host of The Joy of Living podcast

"Yes, it does take a village, but with gut checks, exercises, and action steps, Build Your Village from Florence Ann Romano makes identifying your community easier than you think. This is the go-to guide for anyone who has ever felt disconnected."
— Bridgetta Tomarchio, celebrity publicist, book coach, and mom, www.Bridgetta.com 

"A step-by-step how-to guide on building meaningful connections for every stage of life! From the delivery driver at your local market to family and friends, they are all part of your village. In Build Your Village, Florence gives you the tools that will enhance your life."
— Douglas E. Noll, author of De-Escalate and Elusive Peace

"Easy to digest, informative, and valuable—Florence Ann Romano's Build Your Village is redefining the age-old phrase 'It takes a village.'"
— Joseph Fatheree, NEA National Award for Teaching Excellence 2009 and Illinois Teacher of the Year 2007