Job-Hunting Online: A Guide to Job Listings, Message Boards, Research Sites, the UnderWeb, Counseling, Networking, Self-Assessme (Paperback)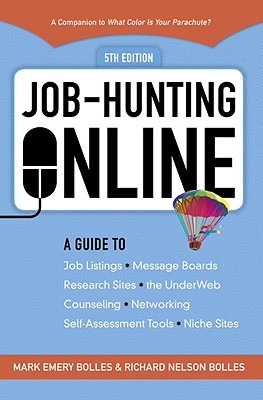 $12.99
Email or call for price.
Description
---
The Internet can be an invaluable tool in any job hunt-but only when you know how to use it. Cowritten by career guru Richard Nelson Bolles and his son, nontraditional career expert Mark Emery Bolles, JOB-HUNTING ONLINE helps job seekers navigate the overwhelming amount of information available on the Internet to find the most useful sites and avoid common pitfalls. Filled with hundreds of annotated website recommendations and newly reorganized to follow the action steps of a successful job hunt, this time-saving desktop guide is essential to an effective online job search.

 This up-to-the-minute revision of the WHAT COLOR IS YOUR PARACHUTE? companion helps job searchers integrate the Internet into an efficient job-hunting strategy. Updated with information on all the current hot topics, from researching to networking, career testing to job sites. The companion website, www.jobhuntersbible.com, features clickable links to key sites. ReviewsMarvin Walberg's syndicated "Getting Hired" column 4/30/08: called it "a great book" and "a powerful tool that will help you find and use the incredible resources that the internet has to offer. I plan to keep my copy by my computer and urge you to do the same. It's a small price to pay for an enormous investment in your future."—Scripps Howard News Service

 
About the Author
---
RICHARD NELSON BOLLES is the best-selling author of WHAT COLOR IS YOUR PARACHUTE? and has been a leader in the career development field for more than 35 years. He lives in the San Francisco Bay Area. MARK EMERY BOLLES has worked as a computer programmer, musician, and technical writer and is an expert on using the Internet to support alternative career paths. He lives in Antioch, California.