The Artisanal Kitchen: Baking for Breakfast: 33 Muffin, Biscuit, Egg, and Other Sweet and Savory Dishes for a Special Morning Meal (Hardcover)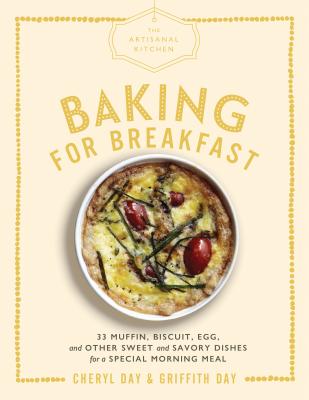 $12.95

Not currently in store. Available to ship from distributor's warehouse.
Description
---
Make the happiest meal of the day even happier with 33 recipes for baked deliciousness from Cheryl and Griffith Day, New York Times bestselling authors and owners of Savannah's must-visit Back in the Day Bakery. Whether you're hosting a brunch or feeding the family, try these irresistible recipes for authentic Old-Fashioned Buttermilk Biscuits; inspired muffins, coffee cakes, and quick breads; one beautiful Farmers'-Market Quiche; and so much more.
 
This book has been adapted from The Back in the Day Bakery Cookbook (Artisan, 2012) and Back in the Day Bakery Made with Love (Artisan, 2015).
About the Author
---
Cheryl Day is a New York Times bestselling cookbook author, a James Beard Award semifinalist for Outstanding Pastry Chef, a self-taught scratch baker, and an entrepreneur. With her husband, Griffith Day, she is a cofounder of the Back in the Day Bakery in Savannah, Georgia, and coauthor of The Back in the Day Bakery Cookbook. Cheryl is a cofounder of Southern Restaurants for Racial Justice and a founding member of the leadership committee for the James Beard Foundation Investment Fund for Black and Indigenous Americans. Cheryl lives with Griff, her baking soul mate; Story, their beloved dog; and a vast collection of vintage cookbooks in Savannah. Keep up with Cheryl at backinthedaybakery.com and on Instagram at @cherylday, where she lives out her mantra to "slow down and enjoy the sweet life."

Cheryl Day and Griffith Day are self-taught bakers who founded Back in the Day Bakery in Savannah, Georgia, in 2002. Their latest cookbook, Back in the Day Bakery Made with Love, is a national bestseller, and they were semifinalists for the 2015 James Beard Foundation Award for Outstanding Baker. Cheryl honed her skills in her mother's and grandmother's kitchens, and her enthusiasm for enriching lives through the time-honored art of scratch baking is one of her most endearing qualities (along with a few dance moves she picked up in her days as a Soul Train dancer!). Griff's interest in baking was piqued by the magical sourdough starter that his mother kept in the family kitchen when he was a child. He is a master of flavorful breads and creative savory dishes. Cheryl and Griff got married in their bakery, and the recipe for their wedding cake appears in their first cookbook, the New York Times bestseller The Back in the Day Bakery Cookbook.