The Dogist: Photographic Encounters with 1,000 Dogs (Hardcover)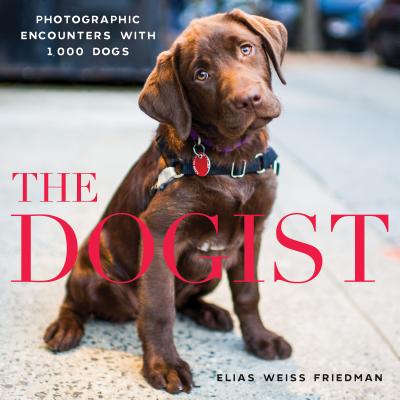 $24.95
Not currently in store. Available to ship from distributor's warehouse.
Description
---
New York Times bestseller

The Dogist is a beautiful, funny, and inspiring tribute to the beloved dogs in our lives. Every page presents dog portraits that command our attention. Whether because of the look in a dog's eyes, its innate beauty, or even the clothes its owner has dressed it in, the photos will make you ooh and aah, laugh, and fall in love. Photographed by Elias Weiss Friedman, aka The Dogist, every portrait in the book tells a story and explores the dog's distinct character and spirit. Themed sections include Puppies, Cones of Shame, Working Dogs, and Dogs in Fancy Outfits, giving every dog lover something to pore over.
About the Author
---
Elias Weiss Friedman is the New York Times bestselling author of The Dogist and the creator of the wildly successful online brand of the same name. He launched TheDogist.com in 2013; it now boasts more than 3 million followers across all social media platforms. Friedman lives in New York City, but his work photographing dogs takes him around the world. Find him on Instagram @thedogist.
Praise For…
---
"A beautiful tribute to our four-legged friends that's sure to put a smile on your face."
—Modern Dog
 
"Captures photos of dogs just as they are, full head-tilt, snout in the lens, tongue lapping at the air—just being dogs. . . . Talk about a comfort read."
—New York Magazine's The Cut
 
"Dog lovers won't be able to resist canine photographer Elias Weiss Friedman's new book, The Dogist. . . . Flipping through the pages will make the day of anyone who adores animals."  
—InStyle.com
 
"This gorgeously shot 'Humans of New York' for canines is the perfect gift."
—New York Post

"If Humans of New York and the Sartorialist had a canine love child, it would be the Dogist."
—Publishers Weekly

"This is quite simply my favorite book of the season and I love that Elias champions a wide range of dogs, from fancy uptown breeds in NYC to scruffy rescue pups as far away as China. The book is grouped according to type (puppies, working dogs, dogs in raincoats, small breeds, etc.) and tells some incredible stories, like those of dogs rescued from fighting rings who are now certified therapy dogs. Whether you're picking up a copy for yourself, a loved one or early holiday shopping, The Dogist is a must-have for any animal lover. It's a celebration of the reasons why we love our pets so much, and how much they bring into our lives."
—DesignSponge.com

"Friedman . . . combines his love of dogs and photography in this lively collection of over 1,000 photos. Even readers who wouldn't consider themselves dog lovers will have a hard time resisting this heartwarming collection of smiling, barking purebreds such as pit bulls, bulldogs, and Labs, as well as adorable mutts."
—Publishers Weekly

"Delightful. . . . Animal portraiture enthusiasts may be especially interested in this title as an exemplar of the genre."
—Library Journal

"Elias's photos are a joy. Full of personality and fun."
—William Wegman