Lion vs. Rabbit (Hardcover)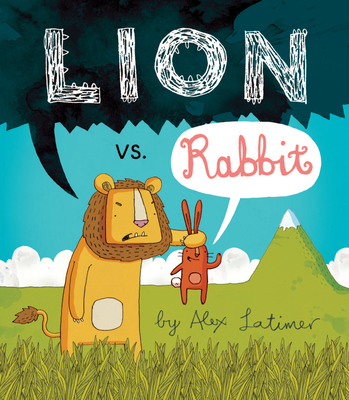 Description
---
In this hilarious story about outwitting a bully, it turns out that someone small can be more powerful than someone big!
Lion bullies all the other animals until finally they can't take it anymore. They post an ad, asking for help. One animal after another tries and fails to defeat Lion. Can no one stop him?
Finally, a rabbit arrives. No one thinks that such a small animal will be brave enough or strong enough to defeat Lion. But this rabbit might just be smart enough!
A hilariously quirky tale from Alex Latimer, filled with visual puns, wordplay, and an entertaining and unique message about working together.
About the Author
---
Alex Latimer lives in South Africa near the border of a national park. So when not writing or drawing, he spends his free time shooing baboons out of his lounge. He has written several picture books for children.
Praise For…
---
"Latimer's digital colored-pencil illustrations humorously capture the funny details of the contests, such as Lion's paint-splattered stick drawing of a dinosaur compared to Rabbit's rendition of the Mona Lisa (with bunny ears). Readers will laugh at the surprise revelation that a colony of wily rabbits was in on the success. This quirky twist on 'The Tortoise and the Hare' is a winner."—School Library Journal

"Precise, digitized pencil illustrations utilize simple lines, patterns and colors to highlight Lion's mean and silly bullying antics. . . Readers with sharp eyes will be rewarded with numerous amusing visual details, including hidden hints about how Rabbit outwits Lion. A droll, nonthreatening tale of bullying in the guise of a modern fable."—Kirkus Reviews

"Latimer's digitally colored pencil cartoons are full of funny details (a TV color test appears in Lion's thought bubble during a trivia challenge), and while he lets readers in on Rabbit's secret to success, Lion simply gets a satisfying, fable-worthy comeuppance."—Publishers Weekly

"Latimer's illustrations are quirky and dryly funny. . . older children will appreciate Latimer's edginess."—The New York Times