The Collected Schizophrenias: Essays (Paperback)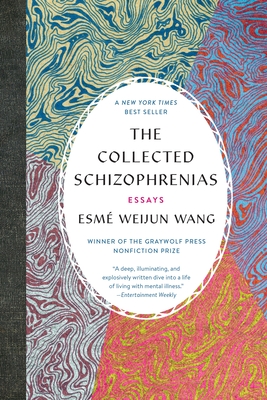 Staff Reviews
---
Powerfully blending memoir, medical science, and cultural criticism, The Collected Schizophrenias sheds light on a prevalent and misunderstood mental illness. Esme Weijun Wang is raw and vulnerable in her writing as she describes the onset of her schizophrenia while attending Yale. Wang goes on to build a successful career as a fashion writer and novelist, grappling along the way with her diagnosis and what it means to be "high functioning." This memoir-in-essays analyzes cultural perceptions of schizophrenia from the DSM-V to horror movies, with Wang's own experiences woven throughout.
--Deirdre M, Bookseller
— From
Staff Picks
February 2019 Indie Next List
---
"The Collected Schizophrenias is a heartbreaking and honest collection about chronic mental illness and its effects on Wang. Through personal narrative and scientific research, Wang has created a collection of essays that are challenging in the sense that they confront you with the reality of a misunderstood condition. Her mission is not to scare, shock, or make the reader feel sorry for her, but to create an environment where mental illness is better understood and destigmatized within our culture. An eye-opening collection of essays from a truly exceptional writer."
— Katie Kucek, Brazos Bookstore, Houston, TX
Description
---
Powerful, affecting essays on mental illness, winner of the Graywolf Press Nonfiction Prize and a Whiting Award

An intimate, moving book written with the immediacy and directness of one who still struggles with the effects of mental and chronic illness, The Collected Schizophrenias cuts right to the core. Schizophrenia is not a single unifying diagnosis, and Esmé Weijun Wang writes not just to her fellow members of the "collected schizophrenias" but to those who wish to understand it as well. Opening with the journey toward her diagnosis of schizoaffective disorder, Wang discusses the medical community's own disagreement about labels and procedures for diagnosing those with mental illness, and then follows an arc that examines the manifestations of schizophrenia in her life. In essays that range from using fashion to present as high-functioning to the depths of a rare form of psychosis, and from the failures of the higher education system and the dangers of institutionalization to the complexity of compounding factors such as PTSD and Lyme disease, Wang's analytical eye, honed as a former lab researcher at Stanford, allows her to balance research with personal narrative. An essay collection of undeniable power, The Collected Schizophrenias dispels misconceptions and provides insight into a condition long misunderstood.
About the Author
---
Esmé Weijun Wang is the author of The Border of Paradise. She received the Whiting Award in 2018 and was named one of Granta's Best of Young American Novelists of 2017. She holds an MFA from the University of Michigan and lives in San Francisco.
Praise For…
---
"In Wang's kaleidoscopic essays, memoir has been shattered into sliding and overlapping pieces. . . . The images and insights Wang summons are . . . often dazzling, and well worth the reconstructive work. . . . Her multifaceted arguments can be gratifyingly mind-expanding."—The New York Times Book Review

"There was no solution—this is the level of uncertainty, even hopelessness, that Wang lives with. And yet she perseveres, however imperfectly. It's Wang's ability to reconcile these opposing realities, to allow them to persist in contradiction, that feels most radical about her approach to being sick."—The New Yorker

"[An] utterly unique book of essays: a deep, illuminating, and explosively written dive into a life of living with mental illness."—Entertainment Weekly

"Drawing on scientific literature, pop culture, and her own experience, [Esmé Weijun Wang] discusses a range of conditions affecting some five per cent of Americans; her account of Cotard delusion, a belief that one is dead, is especially moving. . . . Fragmented by design, the book's structure heightens the immediacy of its testimony."—Briefly Noted, The New Yorker

"Wang . . . is an implicitly trustworthy guide to this netherworld of psychosis and chronic illness. . . . Her characteristic nuance more often carries the ring of wisdom, hard won."—The Washington Post

"Wang establishes herself as a brave voice in the broader dialogue around mental health."—TIME, Best Books of 2019

"The Collected Schizophrenias is riveting, honest, and courageously allows for complexities in the reality of what living with illness is like—and we are lucky to have it in the world."—NPR.org

"Each searing essay . . . paints a vivid portrait of living with mental illness while female. . . . The haunting beauty of her prose anchors the collection firmly in place."—Glamour

"[The Collected Schizophrenias is] resoundingly intelligent, often unexpectedly funny, questioning, fearless and peerless, as Wang makes for brilliant company on 13 difficult walks through largely uncharted territory."—Los Angeles Times

"Intimate, urgent, and powerful. . . . Wang writes generously about the manifestations of schizophrenia in her life . . . and lends her keen analysis to the big, ethical questions about how we treat those whose experience of the world differs from ours."—BuzzFeed

"Wang writes with lucid clarity. . . . Harrowing and heartfelt."—Star Tribune (Minneapolis)

"An intimate, rigorously researched, collection."—BBC Culture

"In a voice both laboratorial and poetic, Wang examines her own diagnosis, as well as her PTSD and Lyme disease, with a gentleness and frankness that mesmerizes and demystifies."—The Week

"Wang is a brilliant writer. . . . This intimate essay collection grapples with her diagnosis of schizoaffective disorder and all the sorrow and searching that comes with it. Always artful and illuminating, never facile."—Vulture

"Wang's clear-eyed look into a complicated reality makes this is an essential read for anyone who better wants to understand why we treat each other—and ourselves—so harshly at any display of weakness; it's a book of compassion and brilliance, an unflinching look at a topic that has long repelled too many of us."—NYLON

"Esmé Weijun Wang's compelling essays highlight the humanity behind a schizophrenia diagnosis, delivering a necessary read tackling mental illness."—Paste

"It is a gorgeous sharp story of both mental and physical illness (and the ways the two intersect), love, understanding, and many nuances of being human."—BUST

"Wang's ability to work at the threshold between her experiences and the page is most certainly a gift to us."—The Brooklyn Rail

"The Collected Schizophrenias records states of mind that are both terrifying in their unknowability and vivid because of just that, and makes us excited to see more of the world through Wang's eyes."—Bitch Magazine

"Wang creates an unforgettable portrait of a singular brain."—Refinery29

"Wang is a highly articulate and graceful essayist, and her insights, in both the clinical and general senses, are exceptional."—Los Angeles Review of Books

"Wang writes brilliantly and beautifully about lives lived with mental illness."—The Millions

"With admirable candor and probing insight, Wang chronicles bewildering experiences. . . . The Collected Schizophrenias goes a long way toward restoring life and humanity to those with this condition."—Barnes & Noble Review

"In writing about her experiences, Wang puts a face to the silent suffering of millions of people. Her searing honesty coupled with the strength of her writing make The Collected Schizophrenias a remarkable look into a little-understood part of the human condition."—Chicago Review of Books

"An illuminating, breathtaking look into the underexplored world of schizophrenia, with the rare perspective of someone who's actually been there."—mindbodygreen

"Wang . . . eloquently balances personal narrative and empirical research to offer a powerful series of insights into a woefully misunderstood world."—SF Weekly

"This beautifully written work will expand your thinking about severe mental illness and mental illness in general."—Rewire.News

"The Collected Schizophrenias is illumination and important—not only because it educates and challenges—but because it forces us to consider how much we still have to work to undo historical and systematic damage, to challenge our own broken, misguided partiality towards what it means to be healthy and sane."—The Arkansas International

"The Collected Schizophrenias is riveting, honest, and courageously allows for complexities in the reality of what living with illness is like—and we are lucky to have it in the world."—Denton Daily

"[The Collected Schizophrenias] organizes the confusion, terror and complexity of [Wang's] experience into an imperfectly cohesive, profoundly illuminating whole."—Shelf Awareness

"Penetrating and revelatory."—Publishers Weekly, starred review

"An invaluable work."—Booklist, starred review

"This mesmerizing collection of essays has achieved the rarest of rarities—a meaningful and expansive language for a subject that has been long bound by both deep revulsion and intense fascination."—Jenny Zhang

"A brilliant guide to the complexities of thinking about illness, and mental illness, in particular. It will bring hope to others searching to understand their own diagnoses."—Meghan O'Rourke

"A masterful braiding of the achingly personal and the incisively researched. . . . This book is a vital, illuminating window onto the world we all already live in, but find all too easy to ignore."—Alexandra Kleeman

"You won't find any pity-baiting, sensationalism, or false positivity here; Wang is so candidly aware that I'd trust her over my own diary."—Tony Tulathimutte

"Esmé Weijun Wang offers us an all-access pass to her beautiful, unquiet mind. . . Rarely has a book about living with mental illness felt so immediate, raw, and powerful."—Dani Shapiro

"The Collected Schizophrenias is at once generous and brilliantly nuanced, rigorous and bold. It had me rethinking what it is to be well or ill."—R. O. Kwon

"Esmé Weijun Wang sends out revelatory dispatches from an under-mapped land, shot like arrows in all directions from a taut bow of a mind. . . . Her work changes the way we think about illness – which is to say that it changes us."—Whiting Award Selection Committee

Coverage from NPR