Sugar Shack: An Album from the Celebrated Au Pied de Cochon (Hardcover)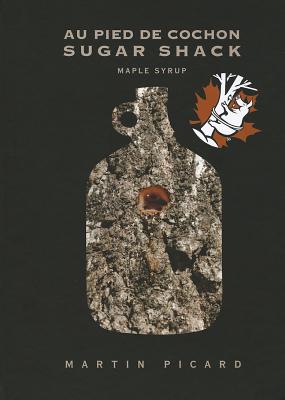 $50.00
Email or call for price.
Description
---
From Montreal's celebrated Au Pied de Cochon restaurant comes this sequel to its bestselling food album. Indulge in a historic, artistic and humorous cooking adventure at the Cabane à Sucre, or Sugar Shack, a small restaurant in the Laurentian mountains that's open just six weeks of the year. Set on 130 acres of maple bush, the Sugar Shack serves only one product: innovative takes on maple syrup and its derivatives drawn from trees on the property.

Forget everything you know about traditional pancakes and imagine, instead, 70 dishes such as pea soup with foie gras, pork rind salad and even lobster maki with maple syrup—all made with the silky, sticky boiled maple sap. This book celebrates more than just the recipes; it is an off-the-wall tribute to the nostalgia and the camaraderie of traditional sugaring off. A post-apocalyptic short story, zany illustrations by Au Pied de Cochon contributor Tom Tassel, and mouth-watering photos present an overall picture of this unique restaurant, maple syrup culture and the Rabelaisian Martin Picard and his friends. This irreverent romp through food and food culture might just be the opportunity you've been waiting for: to eat with your fingers in a three-star restaurant.
About the Author
---
Martin Picard is the chef and proprietor of Au Pied de Cochon, one of Canada's most original and wildly popular restaurants, and of the Cabane a Sucre, a seasonal restaurant located on 130 acres of maple bush in Saint-Benoit-de-Mirabel in the Laurentian Mountains. He has been a professional chef since the 1990s, has worked with renowned chefs across the globe and was a member of the culinary team that opened Montreal's internationally acclaimed restaurant Toque. He has earned distinction for his mastery of Southern French cuisine to which he adds his own unique, contemporary twist. The author of the bestselling "Au Pied de Cochon: An Album," he lives in Montreal, Quebec.
Praise For…
---
For Au Pied de Cochon, the cookbook

"[Au Pied de Cochon] provides a madcap sense of Picard's approach to dining and life, a warm and telling portrait of a unique restaurateur and his one-of-a-kind establishment."—Publishers Weekly, starred review

"Stunning graphic design and full-color photographs turn this oversized tome into archetypal food porn."—Booklist

"...a publishing phenomenon...an unconventional cookbook ...cartoons that are more Fabulous Furry Freak Brothers than Food Network...But it's a serious cookbook, full of professional insights."—New York Times