Overcome: Crush Adversity with the Leadership Techniques of America's Toughest Warriors (Hardcover)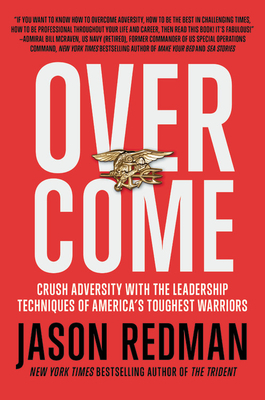 $28.00
Not currently in store. Available to ship from distributor's warehouse.
Description
---
Triumph over adversity using proven Special Operations habits and mindsets with this inspiring guide from retired Navy SEAL and New York Times bestselling author Jason Redman.
Adversity can often catch you by surprise and leave you struggling with what to do next. What if you could confront any adversity, from the biggest challenges -- the loss of your job, divorce, health issues, bankruptcy -- to normal daily challenges -- a late flight, a disappointing phone call, a missed promotion, a bad day -- and not just survive it, but thrive afterwards?
Redman was horrifically wounded in Iraq in 2007 when he was shot at close range through the face and arm. After 40 surgeries, including extensive facial reconstruction and skin grafts, he came back from this experience stronger than ever -- despite carrying scars and injuries he will have for the rest of his life. Redman went on to launch two successful companies and speaks all over the country on how to build better leaders through his Overcome mindset.
Overcome is based on extensive research and interviews with America's toughest warriors, including retired 4-star Admiral William McRaven, retired Navy SEAL Jocko Willink, retired 4-star General Stanley McChrystal, and others. In this book, Redman teaches:
How to survive any life ambush
How to move from defense to offense using the proactive techniques of SEAL teams
How to strengthen your endurance during long-term trials
How to rediscover and thrive in your life purpose
How to lead your team (whether in business or family) to success
How to compete with the top 1% in your field
How to stay the course even when you want to quit
And more
Some people move through adversity and others fall underneath it. Learn how you can be counted among those who will Overcome.
About the Author
---
Jason Redman is a retired Navy Lieutenant who spent eleven years as an enlisted Navy SEAL, and almost ten years as a SEAL officer. He was awarded the Bronze Star Medal with Valor, the Purple Heart, the Defense Meritorious Service Medal, the Navy Commendation Medal, the Joint Service Achievement Medal, five Navy Achievement Medals, and two Combat Action Ribbons.
After being severely wounded in Iraq in 2007, Redman returned to active duty before retiring in 2013. He is the founder of the Combat Wounded Coalition, a nonprofit corporation that inspires warriors to overcome adversity through clothing, leadership courses, events, and opportunities. He speaks about motivation and leadership across the country. He is the author of the New York Times bestselling memoir The Trident. He lives with his family in Virginia.
Praise For…
---
I have spent the better part of my adult life in the business world. From new ventures, to failures, to partnerships and massive successes. Today, I am able to take so many of the lessons I have learned in building massive wealth and teach others how to be the best versions of themselves and MAX OUT their lives in all areas. Jason Redman's book Overcome is a living blueprint for so many people I have met over the course of my life. They are literally stuck; stuck in their heads, stuck in their relationships, stuck in dead end positions, stuck in life! Overcome lays out how they can "Get off the X" as Jason puts it in Navy SEAL jargon, move forward and find success! Read this book if you are ready to move forward and MAX OUT!!
—
Ed Mylett - Author of Max Out Your Life, Host of The Ed Mylett Show
"Learning from "Red" was like drinking out of a firehouse. He absolutely had to take his system into written word. This book will light your excuses on fire. Looking back over my career in football, as a father and now in business, Overcome shows people the path to "Get off the X" from any problem you may be stuck in. Jason taught me how to shift my mindset from problem finder to solution executioner.
—
Steve Weatherford, NFL NY Giants Super Bowl Champion
"Jason Redman is the real deal! He has "been there, done that," and learned a lot along the way. If you want to know how to overcome adversity, how to be the best in challenging times, how to be professional throughout your life and career-then Read this Book! It's fabulous!"
—
Admiral Bill McRaven, New York Times bestselling author of Make Your Bed and Sea Stories
"Challenging and inspiring! Jason Redman has experienced close encounters with the kind of adversity most of us can barely imagine, yet his prescription for avoiding self-pity and moving forward is supremely applicable for us all. A great read, and more importantly, great lessons for life."
—
General Stan McChrystal US Army (Retired) Former Commander of U.S. Forces Afghanistan, Founder of the McChrystal Group, Best Selling author of Team of Teams
"I have known Jason Redman for over ten years, since early in his recovery from his combat related injuries while serving in Iraq. A gunshot to the face, nearly 40 surgeries, multiple challenges. Yet he has never quit, never given up and constantly turned adversity into an ally by overcoming those challenges each and every day through service to others. Read this book. It will give you new hope that you can do the same."
—
Gary Sinise, Award Winning Actor, Patriot, Wounded Warrior Advocate and Best Selling Author
Speaking from my own personal experience, the Navy takes regular people like myself and teaches us to work as a team to achieve extraordinary results.... Now take that X 10 and that is a Navy SEAL . Jason's experience as a severely wounded Navy SEAL and his follow on successes after his military career makes him the ideal person to share the key lessons of leadership, overcoming massive adversity and what amazing team work can do!!!"
—
John Paul DeJoria, Founder of Paul Mitchell and Patron Tequila
Jason Redman is a true warrior, leader and servant. He is a living embodiment of everything he teaches, having overcome the worst of combat by getting off the X and using adversity to grow. The lessons he offers in this book are priceless - read it and pay it forward.
—
Mark Divine, Commander (ret) U.S.Navy SEALs. NYT best selling author of The Way of the SEAL, Unbeatable Mind and Staring Down the Wolf.
"Jason Redman utilizes his profound personal experiences as the core foundation of this amazing book, weaving around it applicable stories from others, to teach all of us how to strive for an overcome mindset in facing the inevitable challenges of life. Having served this great nation with and known this humble warrior for over two decades, he has my highest personal recommendation and his book is a must read!"
—
Scott Taylor, Former Navy SEAL, Entrepreneur, Former US Congressman of VA 2nd District
"I have had the great honor to know and work with Jason Redman on our numerous Peace Love & Happiness charity events. Jay doesn't just walk the walk; he has climbed it inch by inch to get out of some of the darkest holes encountered to find success. As a business owner who has ridden the high and lows of entrepreneur leadership, this book is a must have. Living Purpose before Profit is how I got where I am today, Overcome is a blueprint for anybody to follow from Fortune 500 CEO to stay at home parent. Overcome will help you navigate through life's thunderstorms that put you on the "X". Overcome can help you create long enduring leadership within yourself and your team. If you follow the principles in this book you will find success in your life; not just financial success by building the right teams, systems, and structure, but life success by building all aspects of your life and relationships."
—
Gary Spellman, Co- Founder of Peace, Love and Happiness organization and President of Ultimate Face Cosmetics
"Your ability to quickly overcome life's challenge, adversities and setbacks and thrive is the single biggest determining factor to your success and happiness. Jason Redman delivers real world, time tested and in-the-trenches proven strategies that teach you how to quickly overcome any life ambush so that you can live an awesome life! "
—
Bedros Keuilian, CEO Fit Body Boot Camp
"Jason Redman takes the events of his life - the successes, failures and the survival of injuries so catastrophic, few can comprehend and even fewer could live to talk about - to lead us toward an Overcome mindset by using his toolbox to Get Off The X and turn what might appear as an end-game tragedy in our lives into an unexpected springboard to greatness. This book is a blueprint guide for the common man to defeat adversity, confront failure and overcome crisis chaperoned by a leader who lives what he speaks."
—
Jay Dobyns, Federal Agent (ret.), Best Selling Author of No Angel and Catching Hell, National Public Speaker
"The certainty of facing obstacles in life is inescapable. However, what remains within the individual decision making process is our willpower to overcame those obstacles. Jason Redman's book OVERCOME is brilliant combination of blueprint, roadmap, guide, resource, reason, and motivation to meet and even greet obstacles with the mindset of "staying awake, staying alive, overcoming and leading" through life's ambushes. His leadership by example has been a great inspiration in my life, and I trust that his message will have the same positive effect on everyone it reaches."
—
Greg Amundson,Best Selling Author, Founding Athlete of CrossFit, DEA Agent, National Law Enforcement Performance Coach