Here We Go Again: Recipes and Inspiration to Level Up Your Leftovers (Hardcover)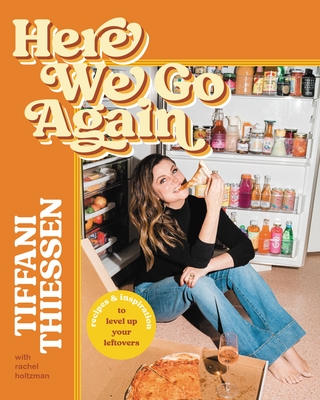 Find us on Bookshop.org to order!
Description
---
Stretch your budget and avoid food waste by remixing leftovers into family-favorite weeknight meals with the help of this smart guide to everyday cooking.

Leftovers can be so much more than the sum of their parts. Yesterday's dinner, last week's baking experiment, snack drawer remnants, and cheese drawer bits and bobs are all an opportunity to create something new and delicious. And the holidays—they're a leftovers goldmine!
Here We Go Again is dedicated to the recipes your leftovers deserve, whether they're the classics in your rotation, the dishes that maybe didn't hit the spot the first time around, or those last-ditch meal efforts you throw at your kids, only to have half the macaroni still left in the pot. They're also perfect for ingredients that would otherwise be trash-bound—those carrots threatening to go soft, the bunches of kale from the overenthusiastic farmers' market haul, that half a loaf of bread getting harder by the day, the nubbins of cheese that don't seem good for anything other than late-night snacking. Or the dreaded 1 cup of sour cream or buttermilk inevitably left in the back of the fridge from when you made something else with it. Or maybe it's the chicken breasts or steaks you stocked up on when they were on sale and are now sitting in your freezer, waiting for an invitation to be used. And of course, it's all the food staring back at you from your fridge after a holiday meal (and worked way too hard on to throw away!)
 
These are the dishes that we need right now—and in so many ways. We need to get food on the table, every meal, every day. We need to use the food that we have because we don't always know when we'll get to the store or how much we need to make our budget stretch. And above all else we need to take care of ourselves and our families with food that tastes good.
About the Author
---
Tiffani Thiessen's on-screen charisma has been gaining her fans since she starred as Kelly Kapowski in the cult classic television series Saved By the Bell and Valerie Malone in Beverly Hills, 90210. Today, she is the dazzling host of MTV's newest hit series Deliciousness, which celebrates the best and funniest moments from cooking on the internet, from home cooking disasters to barbecue fails. The show has been a massive hit – see Variety report on how it brought in a major ratings and viewership boost for the network, and was recently renewed for a huge 3rd season order of 30 episodes.
Her first cookbook, Pull Up a Chair, was published by Houghton Mifflin in October 2018, leading to a national press tour with dozens of stops, from appearances on the Today Show, Good Morning America, and Rachael Ray to book signings across the coast.
Praise For…
---
My fellow LBC girl Tiffani showin her mad cooking skills in this new book that's all about leftovers. And ya know ya boy gets the munchies pretty often so what better way to feed tha need than with these cool recipes made from leftovers....I loves me some leftovers. But even if you don't like to cook… just buy the book. —Snoop Dogg, or Calvin as Tiffani knows me

Tiffani is giving me all the retro feels with her latest cookbook, Here We Go Again. Recipes like her Cornbread Skillet Sloppy Joes and Old School Ham Salad, I feel like I stepped back into my childhood. And can we talk about her Hurricane Granitas??? OH MY! Those will be on repeat by the pool all summer long. Cheers to another beautiful book that I know my family and I will be cooking from all year long.—Sara Michelle Gellar, slayer of many things

Tiffani Thiessen has created the book that every parent, every first time cook, every household of one, every cook with housemates, lovemates and every family NEEDS to have in their kitchen. I am all here for the mashed potato dumplings (I learned a new trick that my family loves) and spaghetti pie and all the rest of the amazing recipes, but going to 5,000 feet above sea level, a book this fun, so keenly photographed, with such yummy food, is so important in a world where 40% of what comes into our food pipeline gets wasted. This cookbook, born out of one family's desire to inspire, is the joyous food manifesto we didn't know we needed.—Andrew Zimmern

If you're like me, and the word "leftovers" doesn't make you jump up and down, you need this book. Tiffani makes yesterday's meals and kitchen scraps exciting again, with a thrilling amount of flavor, creativity, and fun. If my mother had had this book I would have complained 82% less. —Phil Rosenthal, Host and author of "Somebody Feed Phil"