The Warlord of Mars (Golden Classics #29) (Paperback)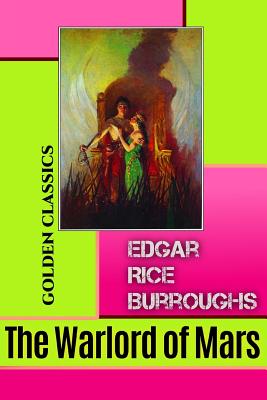 Find us on Bookshop.org to order!
(This book cannot be returned.)
Other Books in Series
This is book number 29 in the Golden Classics series.
Description
---
Classics for Your Collection: goo.gl/U80LCr --------- "The Warlord of Mars" (1914) is the 3rd of ll John Carter novels from the pen of Edgar Rice Burroughs. It is a direct continuation of the first two in the series--"A Princess of Mars" and "The Gods of Mars"--and a reading of those earlier titles is absolutely essential before going into this one. Here, Carter tries to rescue his princess, Dejah Thoris, from the clutches of some particularly nasty villains. In his relentless pursuit Carter travels from the south pole of Mars to the forbidden lands of the north. He encounters many varieties of monster, such as the apt and the sith, and gets into more fights and cliffhanging situations than a reader would believe could be packed into a mere 104 pages. The pace of the book is furious, never pausing for breath, and the final battle in the north polar city of Kadabra, in which the combined armies of Barsoomian green, red and black men attack the yellow tribes of the north, is thrilling in the extreme. Scroll Up and Get Your Copy Timeless Classics for Your Bookshelf
Classic Books for Your Inspiration and Entertainment Visit Us at: goo.gl/0oisZU
About the Author
---
Edgar Rice Burroughs was an American author, best known for his creation of the jungle hero Tarzan and the heroic John Carter, although he produced works in many genres. Burroughs was born on September 1, 1875, in Chicago, Illinois (he later lived for many years in the suburb of Oak Park), the fourth son of Major George Tyler Burroughs (1833-1913), a businessman and Civil War veteran, and his wife, Mary Evaline (Zieger) Burroughs (1840-1920). Burroughs was educated at a number of local schools, and during the Chicago influenza epidemic in 1891, he spent half a year at his brother's ranch on the Raft River in Idaho. He then attended Phillips Academy, in Andover, Massachusetts, and then the Michigan Military Academy. Graduating in 1895, and failing the entrance exam for the United States Military Academy at West Point, he became an enlisted soldier with the 7th U.S. Cavalry in Fort Grant, Arizona Territory. After being diagnosed with a heart problem and thus ineligible to serve, he was discharged in 1897. By 1911, after seven years of low wages, he was working as a pencil-sharpener wholesaler and began to write fiction. By this time, he and Emma had two children, Joan (1908-1972), who later married the Tarzan film actor James Pierce, and Hulbert (1909-1991). Burroughs was in his late 60s and was in Honolulu at the time of the Japanese attack on Pearl Harbor. Despite his age, he applied for and received permission to become a war correspondent, becoming one of the oldest U.S. war correspondents during World War II. This period of his life is mentioned in William Brinkley's bestselling novel Don't Go Near the Water. American actor Reid Markel is Burroughs' great-great-grandson.