The Further Adventures of Robinson Crusoe (Golden Classics #19) (Paperback)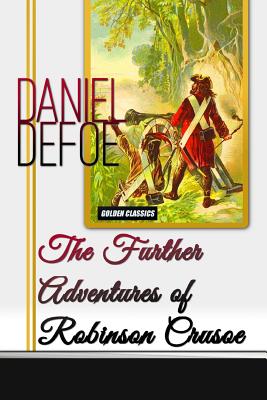 $10.07

Not currently in store. Available to ship from distributor's warehouse.
(This book cannot be returned.)
Other Books in Series
This is book number 19 in the Golden Classics series.
Description
---
Classics for Your Collection: goo.gl/U80LCr --------- Defoe published the follow-up to his best-seller Robinson Crusoe just five months after the first book hit the streets, in a surprisingly modern marketing effort to cash in on the name recognition. Surprisingly modern, that is, given that both books were published in 1719, just one hundred years after Shakespeare and the King James Version of the Bible set the standard for the English language for the next 300 years. The book starts with the statement about Crusoe's marriage in England. He bought a little farm in Bedford and had three children: two sons and one daughter. Our hero suffered a distemper and a desire to see "his island." He could talk of nothing else, and one can imagine that no one took his stories seriously, except his wife. She told, in tears, "I will go with you, but I won't leave you." But in the middle of this felicity, Providence unhinged him at once, with the loss of his wife... In some ways more interesting than the original, the "further adventures" allows Defoe to set up some new scenarios: women and "savages" have been introduced into his paradise, giving him the opportunity to write about salvation and missionary zeal. Of course, since Defoe seemed to delight in contrarian views, he embodies the missionary zeal in the body of a French Catholic priest, in sharp contrast to his non-Conformist Protestantism. Defoe resolves the problem in strikingly modern terms pleasing to the true Biblical view. Written in much the same style the original Robinson Crusoe.
Scroll Up and Grab Your Copy Timeless Classics for Your Bookshelf
Classic Books for Your Inspiration and Entertainment Visit Us at: goo.gl/0oisZU
About the Author
---
Daniel Defoe (c. 1660 - 24 April 1731), born Daniel Foe, was an English trader, writer, journalist, pamphleteer, and spy, most famous for his novel Robinson Crusoe. Defoe is noted for being one of the earliest proponents of the novel, as he helped to popularise the form in Britain with others such as Samuel Richardson, and is among the founders of the English novel. He was a prolific and versatile writer, producing more than five hundred books, pamphlets, and journals on various topics, including politics, crime, religion, marriage, psychology, and the supernatural. He was also a pioneer of economic journalism. Daniel Foe (his original name) was probably born in Fore Street in the parish of St. Giles Cripplegate, London. Defoe later added the aristocratic-sounding "De" to his name, and on occasion claimed descent from the family of De Beau Faux. His birthdate and birthplace are uncertain, and sources offer dates from 1659-1662. Defoe was educated at the Rev. James Fisher's boarding school in Pixham Lane in Dorking, Surrey. His parents were Presbyterian dissenters, and around the age of 14 he attended a dissenting academy at Newington Green in London run by Charles Morton, and he is believed to have attended the Newington Green Unitarian Church. During this period, the English government persecuted those who chose to worship outside the Church of England.