At Certain Points We Touch (Hardcover)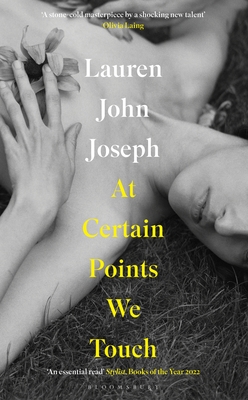 Find us on Bookshop.org to order!
Description
---
AN OBSERVER BEST DEBUT NOVEL OF THE YEAR * AN ESQUIRE BEST BOOK OF 2022 * A STYLIST BOOK YOU CAN'T MISS IN 2022

"SEARING"-Harper's Bazaar
"SMART, SPARKLING, TWISTED" -Attitude
"SCREAMINGLY FUNNY, SCANDALOUSLY HOT, OPULENT, DEEP" -Jeremy Atherton Lin, author of Gay Bar

From an electrifying new voice, a "stone-cold masterpiece" (Olivia Laing) of queer friendship, first love, and unbridled youth.

It's four in the morning, and our narrator is walking home from the club when they realize the date is February 29th-the birthday of the man who was something like their first love. Piecing together art, letters, and memory, they set about trying to write the story of a doomed affair that first sparked and burned a decade ago.

Ten years earlier, our young narrator and a boy named Thomas James fall into bed with one another over the summer of their graduation. Their ensuing affair, with its violent, animal intensity and its intoxicating and toxic power plays initiates a dance of repulsion and attraction that will cross years, span continents, drag in countless victims-and culminate in terrible betrayal.

At Certain Points We Touch is a story of first love and last rites, conjured against a vivid backdrop of London, San Francisco, and New York-a riotous, razor-sharp coming-of-age story that marks the arrival of an extraordinary new talent.
About the Author
---
Lauren John Joseph (formerly La JohnJoseph) is a British born American-educated artist and writer, who works at the intersection of video, text, and live performance.

They have written extensively on contemporary culture, art, performance, pornography, gender theory and the Golden Age of Hollywood, contributing in print and online to publications including iD, The Independent, Sleek, The Guardian, Time Out, Attitude, Amuse, Siegessäule, Parterre de Rois, Charleston Press, and the 'zines Birdsong, Fat Zine, 21st Century Queer Artists Identify Themselves, and Not Here: An Anthology of Queer Loneliness. They have also authored the experimental prose work Everything Must Go (ITNA Press in 2014), and the plays, A Generous Lover and Boy in a Dress, which were published by Oberon in 2019.

They have presented performances at the Royal Opera House; Deutsche Oper; Bristol Old Vic; Barbican; Schaubühne; Art Basel Hong Kong; SF MoMA; Dixon Place, NY; Martin-Gropius Bau; Fancy Him, Tokyo; La Java, Paris; and Museu de Arte Contemporânea de Niterói. Their fine artwork has been shown in group exhibitions in the UK, US, Germany and Mexico.
Praise For…
---
"Lauren John Joseph's vivid debut novel has a live current running through its pages... An impressive debut with lines that linger with on the page." —Esquire, "The Best Books of 2022"

"Hot, steamy, smart, sexy. All can describe At Certain Points We Touch, which finds the narrator reminiscing about a first love. Lauren John Joseph has their finger on the pulse of what makes readers want to eagerly turn the page as they hang on every sensual word." —Debutiful, "Can't-Miss Debut Books You Should Read This December"

"This is the story of a destructive love affair played out over years and cities that's going to be an essential read." —Stylist, "Books You Can't Miss in 2022"

"Joseph honors the stylistic legacy of Kathy Acker, and the Beats before, in a delicious stream of consciousness. The book celebrates the freedom and nonconformity of the narrator's youth, and the enormous capacity for love and tragedy that such a life can hold. This raucous and dazzling debut showcases a bright new voice in fiction." —Booklist

"This is fabulous: screamingly funny, scandalously hot, opulent, deep-a devastating torch song of obsession and excess." —Jeremy Atherton Lin, author of GAY BAR

"Lauren John Joseph writes with such wit, glamour, and style! I haven't read a book that so powerfully evokes what it's like to be a wild young artist among other wild young artists since the Bright Young Things were publishing." —Torrey Peters, author of DETRANSITION, BABY

"A stone-cold masterpiece, which in its scope, frankness and ambition reminds me of The Line of Beauty, retooled for the 21st century. By turns libidinous, hilarious, melancholy and full of feeling, it reveals Lauren John Joseph as a shocking new talent" —Olivia Laing

"Beautifully written, smart, snappy story of queer love... incredibly funny and moving." —Juno Roche, author of QUEER SEX

"The struggle to find ones place in the world as an artist and lover, creating self and culture as you go along-At Certain Points We Touch captures this fleeting, dazzling moment with glamour and heart." —Michelle Tea

"Lauren's debut novel is so exciting. The writing is so fresh, funny and gripping-and carries the trademark wit that I have always loved from Lauren." —Travis Alabanza

"A smart, sparkling, twisting, millennial queer odyssey... Lithe, perspicacious, melancholic and as funny as hell." —Attitude

"A moving portrait of youth, friendship and first love." —The Observer

"A riotous coming-of-age story that marks the arrival of a bold new writer.
" —Sheerluxe

"A queer romance novel like no other... The beating heart of this book is... the author's poetic writing-each page is a pure delight to read. Joseph presents a kaleidoscope of beautiful characters with infectious energy and harsh realities. Their descriptions of love, identity, trauma, sex and death are deeply graphic, tragic and yet tender, and will resonate with any reader." —Tatler

"This is a masterful novel, sharp and clever, that explores how we tell stories and what millennial queer life is like." —Fiendfully Reading

"A rich and sensuous read, a coming of age story that is full of life and love that reminded me of The Line of Beauty. Tender and dark in turn, it brings the art world at its heart and its cast list of bright young things brilliantly to life." —Living Magazine

"A tragic, haunting, and expertly crafted debut." —Buzz Magazine

"With unique style and flair, Lauren John Joseph weaves a dreamlike coming-of-age tale about toxic relationships, wild young artists, and an unspeakable betrayal." —Woman's Own

"A rich and sensuous read, a coming of age story that is full of life and love that reminded me of The Line of Beauty. Tender and dark in turn, it brings the art world at its heart and its cast list of bright young things brilliantly to life." —Living Magazine

"At Certain Points We Touch is as much a love letter to the glamour and glory of countercultural nightlife as a self-aware sendup of its absurdities and deprivations. This novel is a rollicking study of the stubbornness, irrationality, and dysfunction of the human heart, with prose as extravagant and daring as a Rococo gown. I would spend as many pages with this narrator as Lauren John Joseph cares to write." —Kim Fu, author of LESSER KNOWN MONSTERS OF THE 21ST CENTURY

"Elegant, sharp, and hysterical, At Certain Points We Touch asks us how do we grieve a lover who may not have been a good person. Lauren John Joseph's writing will pull you in like an alluring perfume, only to seize your heart and tear it to pieces in this spectacular debut!" —Morgan M Page

"Lauren John Joseph lyrically captures the hope, the tumult, and the trauma of relationships. Love's letters have rarely been more savage, poignant, or more true." —James Bridle, author of WAYS OF BEING

"[At Certain Points We Touch] examines queer loss and survival elegantly, devastatingly, and critically incisive. Lauren John Joseph is a writer to reckon with. I'll read whatever they'll write next." —Isabel Waidner