The Far Side® 2022 Off-The-Wall Calendar (Calendar)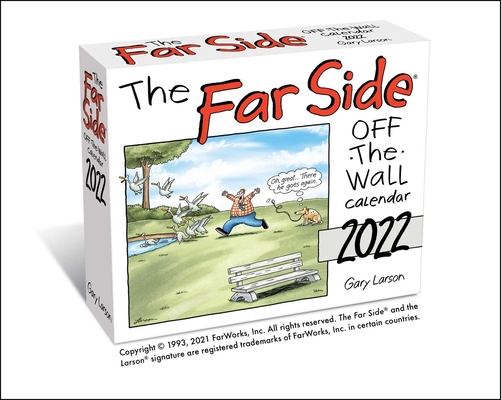 Email orders@tridentbookscafe.com or call for price
Out of Print
(This book cannot be returned.)
Description
---
Greet each day of 2022 with a maniacal cackle, thanks to the return of the all-time bestselling The Far Side® calendar featuring the most irreverent cartoon to have graced the funny pages. Oh, and did we mention it's a reissue of The Far Side® 1994 Off-The-Wall Calendar? You're welcome.
The triumphant return of
The Far Side
®
Off-The-Wall Calendar
in 2021 reminded you how much you've missed those silly scraps of paper you hadn't seen in ages. A bovine bartender taped to a neighboring cubicle, notices from the caveman homeowners' association displayed on a fridge, the postcard of a few vacationing lice pinned to a hallway bulletin board. Fear not!
The Far Side
®
Off-The-Wall Calendar
—the world's bestselling calendar for nineteen years—is back again for 2022!
This year's edition is a reissue of the beloved 1994 calendar, featuring black and white cartoons from
The Far Side
® with the days and dates distinguished by a fun, hand-lettered look. Quit sitting around wondering what day it is and ensure you receive your regular dose of anthropomorphic arthropods, ostentatious outlaws, and raving radiologists with
The Far Side
®
2022 Off-The-Wall Calendar
.
Features include:
Tear-off pages
Day/date reference on each page
Official major holidays
Combined weekend pages
Blank back pages—perfect for notes, lists, or to-dos
Use of FSC-certified paper with soy-based ink
Text, box, and backer made from recyclable materials
A different black and white cartoon from The Far Side® on each page
About the Author
---
The Far Side was syndicated in more than 1,900 daily newspapers from 1980 to 1995, when Gary Larson retired. During its run, the cartoon spawned 22 books from AMP, which were translated into a total of 17 different languages. For his work with The Far Side, Larson was awarded the Reuben Award for Outstanding Cartoonist from the National Cartoonists Society in 1991 and 1994. The group also named The Far Side Best Syndicated Panel in both 1985 and 1987.