Tyll: A Novel (Hardcover)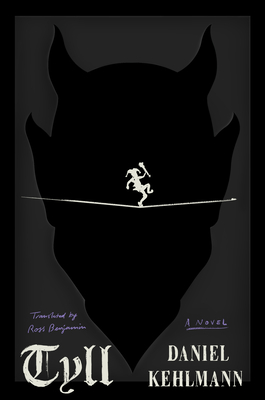 $26.95
Email or call for price.
Description
---
From the internationally best-selling author of You Should Have Left, Measuring the World, and F, a transfixing retelling of the German myth of Tyll Ulenspiegel: a story about the devastation of war and a beguiling artist's decision never to die
 
Daniel Kehlmann masterfully weaves the fates of many historical figures into this enchanting work of magical realism and adventure. This account of the seventeenth-century vagabond performer and trickster Tyll Ulenspiegel begins when he's a scrawny boy growing up in a quiet village. When his father, a miller with a secret interest in alchemy and magic, is found out by the church, Tyll is forced to flee with the baker's daughter, Nele. They find safety and companionship with a traveling performer, who teaches Tyll his trade. And so begins a journey of discovery and performance for Tyll, as he travels through a continent devastated by the Thirty Years' War and encounters along the way a hangman, a fraudulent Jesuit scholar, and the exiled King Frederick and Queen Elizabeth of Bohemia.
 
Tyll displays Kehlmann's remarkable narrative gifts and confirms the power of art in the face of the senseless brutality of history.


Translated from the German by Ross Benjamin
About the Author
---
DANIEL KEHLMANN's works have won the Candide Prize, the Hölderlin Prize, the Kleist Prize, the Welt Literature Prize, and the Thomas Mann Prize. He was a fellow at the Dorothy and Lewis B. Cullman Center for Scholars and Writers at the New York Public Library in 2016–17. Measuring the World has been translated into more than forty languages.

ROSS BENJAMIN's previous translations include Friedrich Hölderlin's Hyperion, Joseph Roth's Job, and Daniel Kehlmann's You Should Have Left. He was awarded the 2010 Helen and Kurt Wolff Translator's Prize for his rendering of Michael Maar's Speak, Nabokov, and he received a Guggenheim fellowship for his work on Franz Kafka's diaries.
Praise For…
---
**Shortlisted for the Booker International Prize**

"Profoundly enchanting but never sentimental, Tyll is a magnificent story . . . Kehlmann is a master of economical, devastating description . . . Chilling . . . In this exquisitely crafted novel, Kehlmann moves just as nimbly through the grimmest of human experiences. The result is a spellbinding memorial to the nameless souls lost in Europe's vicious past, whose whispers are best heard in fables."—Irina Dumitrescu, The New York Times Book Review
 
"Vivid . . . Kehlmann, a confident magician himself, plays his bright pages like cards . . . Kehlmann is a gifted and sensitive storyteller . . . Despite the grimness of the surroundings and the lancing interventions of history, the novel's tone remains light, sprightly, enterprising. Kehlmann has an unusual combination of talents and ambitions—he is a playful realist, a rationalist drawn to magical games and tricky performances, a modern who likes to look backward . . . At once magister and magician, he practices the kind of novelistic modesty that can be found at the heart of classic storytelling . . . Through this riven world, bristling with boundaries both political and ideological, dances our slippery survivalist, our great expansionist, Tyll—amoral, rebellious, untrustworthy, and exciting . . . Brilliant."—James Wood, The New Yorker
 
"Prodigiously imaginative . . . [A] brilliant, blackly sardonic retelling . . . In Mr. Kehlmann's unforgettable joker we have a picture of humankind in all of its madness and strutting pride."—The Wall Street Journal

"Kehlmann, like Tyll, is a trickster and his cheekiness is well served by Ross Benjamin's fluid, stylish translation . . . Rewards close readers with grace notes and unexpected narrative connections . . . Entertaining us like a jester on a tightrope and reminding us of the danger of a fall." —Jon Michaud, Washington Post

"Daniel Kehlmann's narrative gift is so prodigious as to be almost aggravating . . . The pleasures of this novel, not least it's crisp, adroit language, impeccably brought to English by translator Ross Benjamin, can and should be enjoyed—right now."—The Arts Fuse

"Tyll is a rollick and a delight . . . Ross Benjamin's translation is fluent and clever . . . Kehlmann himself performs a tightrope act in the book: he walks the line between the invented and the historical, the tragic and the comic, the ridiculous and the sublime. He rarely stumbles, and he dismounts with a flourish. I for one am eagerly awaiting his next performance."—Matthew Keeley, Tor.com

"Daniel Kehlmann's Tyll is a laugh-out-loud-then-weep-into-your-beer comic novel about a war . . . Ambitious, clever, tricksy, self-reflective . . . Tyll is also a thoroughly contemporary novel. It is artful and ironic and self-conscious . . . It's operatic in its gestures and heartbreaking in its absurdity. Kehlmann is at the top of his game."
—The Times (UK)

"This is a brilliant and unputdownable novel. Kehlmann is the true inheritor of the German fabulist tradition that stretches back to the Brothers Grimm and even further, and in the legendary prankster figure of Tyll Ulenspiegel he has found his perfect avatar."
—Salman Rushdie

"A beautiful, engrossing and fascinatingly structured novel. Lucid, limpid, savage. Knowingly ahistorical. Romantically fictive. Cunningly layered. Tyll quietly intrudes on our present crisis of European identity. Have four centuries made us any wiser? This novel is a masterly achievement, a work of imaginative grandeur and complete artistic control."
—Ian McEwan

"Kehlmann's imagination runs deep and wild. It travels with the currents of history, in its cycles of brutality and violence, it reaches into our own solitude and silence, summoning us, it soars far and high, and echoes with the power of myth."
—Valeria Luiselli, author of Lost Children Archive

"Tyll proves that Kehlmann is literature's jack-of-all trades. He manages to combine meticulous historical research and virtuoso language mimicry with a frightening exploration of our current sense of dystopia. An incredible educational experience and improbably entertaining."
—Michael Haneke, writer and director of "The White Ribbon"

"A rip-roaring yarn . . . It plunges a modern reader into an astonishingly violent and dirty alternative reality . . . But Tyll is a very funny novel, too, with a Monty Pythonesque fascination for absurd hierarchies . . . It's a testament to Kehlmann's immense talent that he has succeeded in writing a powerful and accessible book about a historical period that is so complicated and poorly understood. He never pushes the parallels between present and past, but there are many ways in which this strife-torn Europe, fractured by religion, intolerance and war, is a reflection of our own times."
—The Guardian

"Kehlmann's books are page-turners, running the gamut from picaresque and family chronicles to gothic horror. They are nothing if not approachable and generous with their pleasures, even as they bound from genre to genre, coalescing into an ultimately impossible-to-categorize vision of contemporary literature, its past, and its potential . . . . Almost certainly Kehlmann's magnum opus . . . Tyll is Kehlmann's most ambitious work."
—J.W. McCormack, Publishers Weekly

"Odd, darkly entertaining scenes . . . A richly inventive work of literature with a colorful cast of characters."
—Kirkus Reviews

"A rollicking historical picaresque . . . Located somewhere between German romanticism and modernism, superstition and science, history and high fantasy, this is a rapturous and adventuresome novel of ideas that, like Tyll's roaming sideshow, must be experienced to be believed."
—Publishers Weekly

"Darkly brilliant . . .  Merciless . . . Profoundly humane . . . But even as he reflects back the humanity of all who encounter him, Tyll stands apart."
—Boston Globe

"Injecting gleeful dark humor into a setting that manages to feel both fantastically dystopian and historically grounded . . . [an] irresistible story."
—Booklist (starred review)

Praise for the German edition of Tyll

"The greatest living German writer."
—Maxim Biller, Frankfurter Allgemeine Sonntagszeitung

"A masterpiece. What an inexhaustible book and what a magnificent subject."
—Roman Bucheli, Neue Zürcher Zeitung

"Has the makings of a classic."
—Judith von Sternburg, Frankfurter Rundschau