University Matters for Your Success (Paperback)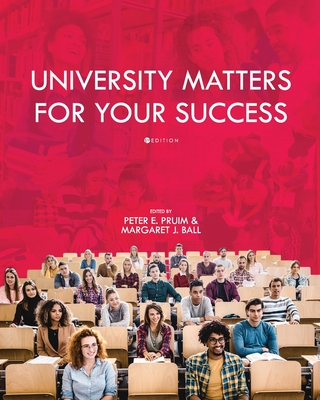 Not currently in store. Available to ship from distributor's warehouse.
Description
---
Featuring engaging and enlightening readings written by professors in philosophy, psychology, sociology, education, English, communication, and library science, University Matters for Your Success helps students excel in academic life and prepare for a successful future. The anthology offers valuable insight and perspective on a wide range of topics that are critical to students embarking upon their college careers.

Opening readings focus on making connections, discovering a sense of belonging, and participating in a first year experience course. Besides college study skills, additional readings provide students with tools and evidence-based best practices for overcoming procrastination, mastering time management, creating moments of opportunity, and conquering anxiety. Students thoughtfully consider why they are attending university, how to cultivate lifelong learning skills, and how to effectively choose a major and plan for a career. Articles on developing media literacy, the importance of diversity, the service learning experience, and conducting research equip readers with invaluable perspective and skills.

Designed to help students understand the benefits, opportunities, and full purpose of higher education, University Matters for Your Success is well suited for freshman orientation or college success programs.
Margaret J. Ball is a professor and the chair of the Department of Theatre at East Stroudsburg University of Pennsylvania. She is also the chair of the University-Wide First Year Experience Committee. She holds a D.M.A. from The Catholic University of America and a M.M. from McGill University.
Peter E. Pruim is a professor of philosophy in the Department of Philosophy and Religious Studies at East Stroudsburg University of Pennsylvania. He also directs the University Honors Program. He holds a Ph.D. and M.A. from the University of Wisconsin-Madison.