The Green Beret Survival Guide: Advice on Situational Awareness, Personal Safety, Recognizing Threats, and Avoiding Terror and Crime (Paperback)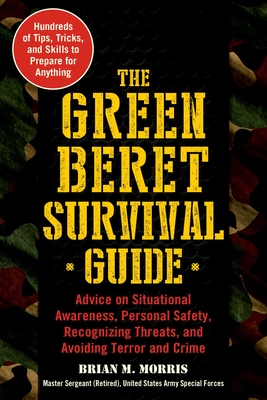 $16.99
Not currently in store. Available to ship from distributor's warehouse.
Description
---
Today's society is one in which we, as individuals, are constantly barraged by the threat of domestic terrorism. The ever-present fear for your safety and the safety of those we love can overwhelm you if you aren't sure how to protect yourself. Luckily, distinguished combat veteran Brian M. Morris's Green Beret Survival Guide is here to help ease your fears.

Using his firsthand knowledge from the field as a Green Beret, Morris concisely outlines the steps that are necessary towards increasing one's personal safety. Over the course of several chapters, Morris describes the importance of situational awareness, meaning staying alert, being aware of your surroundings, and understanding the reality of threats that you may face in any given situation. An individual with good situational awareness never takes anything for granted and makes security a part of his or her daily routine. By being observant and practicing several different methods of observation, one can avoid falling prey to terrorist, thieves, and other criminals.

Using situational awareness as the cornerstone of a personal safety plan, The Green Beret Survival Guide delivers expert advice on preparing you and your loved ones for the worst case scenario.
About the Author
---
Brian M. Morris is a retired US Army Special Forces Master Sergeant. Serving on active duty for twenty-five years, the majority of his time was spent in the Green Berets. He is a decorated combat veteran and has served all over the world/ Morris has taught Survival, Evasion, Resistance, and Escape (SERE) School and wrote the SERE doctrine for the Army Special Forces. Additionally, he is an expert in anti-terrorism and personal security techniques, tactics, and procedures. After retiring from the Army in 2012, he spent a year in Afghanistan working as a counterinsurgency advisor to to the International Security Assistance Force (ISAF) Commander. He currently works as a SERE and personal security senior analyst for the Army as a contract civilian.
Praise For…
---
"If you want to travel safer and smarter, then get this book and read it." —Mykel Hawke, retired Green Beret and author of The Family Survival Guide

"Move over Grossman and De Becker, Morris is on point! If you want to know how to how to protect yourself, your family, and your property, and avoid becoming a victim, READ THIS BOOK. From twenty-plus years of experience at the tip of the spear, Morris provides critical self-preservation advice and guidance for survival in today's uncertain, violent world." —Rob Duane, Command Sergeant Major, US Army Special Forces

"As a recognized expert in the field of survival and preparedness, Morris has once again turned out a must read for novices and a good reference for the seasoned professional. He's broken down the concepts to allow you to grasp them easily and create your thirst for more. Morris takes a no-nonsense approach to deliver what you need but keep you interested at the same time." —James Wallace, Sergeant Major (retired), US Army Special Forces
 
"Great read! One of the best books about how to increase situational awareness and mitigate threat that I have seen. If you care about your safety and that of your family then get this book!" —Timm Smith, CEO Ronin South Africa and inventor of the African Sun Compass

"When it comes to learning how to use situational awareness to better understand your operational environment, recognize threats, and stay safe both at home and abroad, then you can find no better teacher than Brian Morris." —Brian Berry, Command Sergeant Major, (retired), US Army Special Forces

"Not only is this book an interesting and entertaining read; but it is also an outstanding survival tool and reference guide that no bug out bag, disaster kit, or travel pack should be without!"—Paul McGuinty, Chief Warrant Officer 4 (retired), US Army Special Forces

 

"If you want to travel safer and smarter, then get this book and read it." —Mykel Hawke, retired Green Beret and author of The Family Survival Guide