The Wholesome Child: A Nutrition Guide with More Than 140 Family-Friendly Recipes (Hardcover)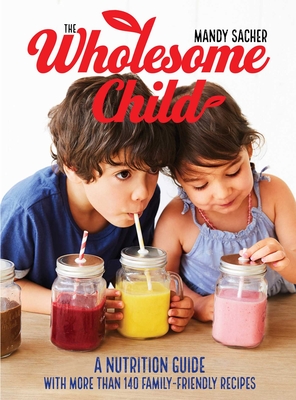 $29.99
Email or call for price.
Description
---
The North American Edition of the Australian Bestseller

In The Wholesome Child, leading pediatric nutritionist Mandy Sacher provides creative and effective strategies and recipes designed to get even the fussiest of eaters to try new, whole foods. Mandy knows switching gears and eating healthier doesn't happen overnight with young children, but that small changes can make a massive difference to the health and well-being of a family.

Presented in eight easy-to-follow steps?Swap to Whole Grains, Reduce Sugar, Increase Vegetables, Boost Protein, Healthy Fats, Balance Fruit, Rethink Dairy, and Avoid Nasties?Mandy's expertly researched and informative guide is accompanied by more than 140 delicious, easy-to-make whole food recipes and menu planners. All recipes adapted for the North American audience using imperial measurements, have been inspired by a genuine passion for healthy eating and tested by real families.

The Wholesome Child provides meaningful answers and proven solutions to the questions and challenges that are raised time and time again in Mandy's workshops, in parenting forums, and by her clients and friends. It's an invaluable companion that will help parents support their family's health journey while bringing fun and enjoyment to meal times.
About the Author
---
Mandy Sacher is a pediatric nutritionist, child nutrition expert, blogger, and mother of two. Her private practice focuses on prenatal and childhood nutrition helping mums-to-be and parents of young children make healthy, nourishing food choices for their families. In 2006 cofounded the MEND Program, a not-for-profit organization established to research and prevent obesity in children. MEND was recently adopted by YMCA's across the United States. Her nutritional workshops are held at preschools, mother's groups, non-profit organizations and medical practices. She resides in Sydney, Australia.
Praise For…
---
"I loved Mandy Sacher's new book. . . . As a pediatric nutritionist and mother of two, Mandy works with families to improve their eating habits. She goes beyond the usual tips to offer genuine insights into helping your family eat better." —New Idea "SO much more than a recipe book. . . . Simple advice, simple recipes, all wrapped up in one gorgeous, easy-to-read, inspiring book." —Tubu Kids "The Wholesome Child will be my new go-to book for families with allergies! As a dietitian, I see the gap for families seeking a wholesome, allergen-free way to cook and nourish their growing family. This book is not only easy to read, but easy to apply. The 8-step plan along with colorful photos will empower new families to eat less refined foods and use alternative grains and a variety of fruits and vegetables with their families. Personally, our family is a huge family of warm lunches, so I thoroughly appreciated her Top 10 Thermos Meals." —Wendy Jo Peterson, MS, RDN and co-author of Born To Eat and the Mediterranean Diet Cookbook For Dummies "Mandy Sacher's The Wholesome Child is a must-read for all parents navigating food choices. Mandy helps parents understand healthy food and equips them with approachable, delicious recipes!" —Alexia Brue, cofounder and CEO of Well+Good

"I loved Mandy Sacher's new book. . . . As a pediatric nutritionist and mother of two, Mandy works with families to improve their eating habits. She goes beyond the usual tips to offer genuine insights into helping your family eat better." —New Idea "SO much more than a recipe book. . . . Simple advice, simple recipes, all wrapped up in one gorgeous, easy-to-read, inspiring book." —Tubu Kids "The Wholesome Child will be my new go-to book for families with allergies! As a dietitian, I see the gap for families seeking a wholesome, allergen-free way to cook and nourish their growing family. This book is not only easy to read, but easy to apply. The 8-step plan along with colorful photos will empower new families to eat less refined foods and use alternative grains and a variety of fruits and vegetables with their families. Personally, our family is a huge family of warm lunches, so I thoroughly appreciated her Top 10 Thermos Meals." —Wendy Jo Peterson, MS, RDN and co-author of Born To Eat and the Mediterranean Diet Cookbook For Dummies "Mandy Sacher's The Wholesome Child is a must-read for all parents navigating food choices. Mandy helps parents understand healthy food and equips them with approachable, delicious recipes!" —Alexia Brue, cofounder and CEO of Well+Good