The NYC Kitchen Cookbook: 150 Recipes Inspired by the Specialty Food Shops, Spice Stores, and Markets of New York City (Hardcover)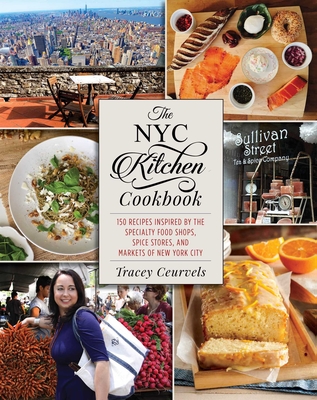 Find us on Bookshop.org to order!
Description
---
Satiate your sense of wanderlust and take an edible journey around New York City with food and travel journalist Tracey Ceurvels. In The NYC Kitchen Cookbook, Tracey shares her tasty adventures with foodie fans nationwide and explains how to use the flavorful ingredients found in NYC to make simple yet sensational meals for any occasion.

The NYC Kitchen Cookbook draws inspiration from food stores and markets that make NYC one of the most diverse and appetizing destinations of the world. Unique ingredients and the NYC shops they're sourced from are the stars of Tracey's recipes. But even if NYC shops are miles away, ingredients can also be found in markets nationwide and online, making The NYC Kitchen Cookbook a convenient and diverse recipe guide for every day of the week. NYC-inspired recipes include:

Squash Soup Spiked with Cider
Beet Dip with Caraway Seeds and Dill
Lobster Ravioli with Orange-Tarragon Butter
Wasabi Mashed Potatoes
Spicy Brownies with Coffee Icing
And more!
About the Author
---
Tracey Ceurvels is a food and travel journalist and the creator of popular cooking and lifestyle blog The NYC Kitchen. She has been published in the Boston Globe, the New York Times, the New York Daily News, Relish, and Time Out, among other places. Tracey resides in Brooklyn, New York.
Praise For…
---
"The NYC Kitchen Cookbook reflects its namesake city perfectly. It's a melting pot of spices, ingredients, and dishes from around the world that can only come together in a city like New York." —Linnea Johansson, author of Food for Friends

"I like to talk food, share food, reminisce about great meals, and savor every bite on my plate—preferably in the company of fellow food lovers. For me, traveling to New York City is an epicurean adventure, made even better when Tracey is my guide. Some leave the city with the latest designer handbag. Not me. I leave the city with exotic salts and chocolate from The Meadow, ancient grain pasta, a jar of fig jam from Il Buco, savory spices from Kalustyan's, and so much more. Yes, I wouldn't think of visiting NYC without Tracey's guidance." —Sue Ann Gleason, culinary nutritionist and nourishment guide

"Tracey captures the essence of what it's like to pick up ingredients in a city bustling with shops and flavors. Her recipes are fun, approachable, and make cooking in New York an exciting adventure." —Maille US

"Authentic, satisfying meals start with locally purchased ingredients. Tracey gives you great tips on finding these ingredients in New York City." —Emile Henry USA

"With this book, you can take a tour through NYC's best food shops." —Mauviel USA

"The NYC Kitchen Cookbook reflects its namesake city perfectly. It's a melting pot of spices, ingredients, and dishes from around the world that can only come together in a city like New York." —Linnea Johansson, author of Food for Friends

"I like to talk food, share food, reminisce about great meals, and savor every bite on my plate—preferably in the company of fellow food lovers. For me, traveling to New York City is an epicurean adventure, made even better when Tracey is my guide. Some leave the city with the latest designer handbag. Not me. I leave the city with exotic salts and chocolate from The Meadow, ancient grain pasta, a jar of fig jam from Il Buco, savory spices from Kalustyan's, and so much more. Yes, I wouldn't think of visiting NYC without Tracey's guidance." —Sue Ann Gleason, culinary nutritionist and nourishment guide

"Tracey captures the essence of what it's like to pick up ingredients in a city bustling with shops and flavors. Her recipes are fun, approachable, and make cooking in New York an exciting adventure." —Maille US

"Authentic, satisfying meals start with locally purchased ingredients. Tracey gives you great tips on finding these ingredients in New York City." —Emile Henry USA

"With this book, you can take a tour through NYC's best food shops." —Mauviel USA