Tara Duncan and the Forbidden Book (Tara Duncan Series) (Paperback)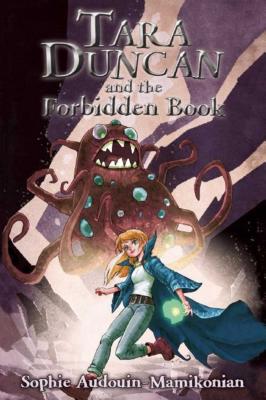 Email orders@tridentbookscafe.com or call for price
Description
---
This is the exciting sequel to Tara Duncan and the Spellbinders! On the planet OtherWorld, Tara's friend Cal is convicted of a crime he didn't commit, and she and her friends are setting out to prove his innocence. Blue gnomes help Cal break out of prison, but at a terrible price: they infect Cal with a time-release poison, to force him to help liberate their people from an evil wizard. Tara and her friends must race to neutralize the poison, defeat the wizard, and travel to Demonic Limbo for evidence of Cal's innocence.

Back on OtherWorld, the situation is grim. In desperation, Tara changes into a dragon and allies herself with her nemesis, Magister. Meanwhile, the Empress of Omois has discovered that Tara is her niece and heir. She insists that Tara come live on OtherWorld for good. If Tara refuses, it will mean war.

For fans of Harry Potter and other fantasy series, Tara and her band of misfit friends is sure to draw you into the action and to ask questions about the importance of friendship in a magical world.

Sky Pony Press, with our Good Books, Racehorse and Arcade imprints, is proud to publish a broad range of books for young readers—picture books for small children, chapter books, books for middle grade readers, and novels for young adults. Our list includes bestsellers for children who love to play Minecraft; stories told with LEGO bricks; books that teach lessons about tolerance, patience, and the environment, and much more. While not every title we publish becomes a New York Times bestseller or a national bestseller, we are committed to books on subjects that are sometimes overlooked and to authors whose work might not otherwise find a home.
About the Author
---
HRH Princess Sophie Audouin-Mamikonian has been writing since the age of twelve. She holds a master's in diplomacy and strategy and is married with two teenaged daughters. Her Tara Duncan series is a bestseller in France. She lives in Paris, France.

William Rodarmor is a veteran French literary translator, writer, and editor. His translation of Tamata and the Alliance, by Bernard Moitessier, won the 1996 Lewis Galantière Award from the American Translators Association. He lives in Berkeley, California.