El ciclo de la Luna Roja Libro 1: La Cosecha de Samhein (Paperback)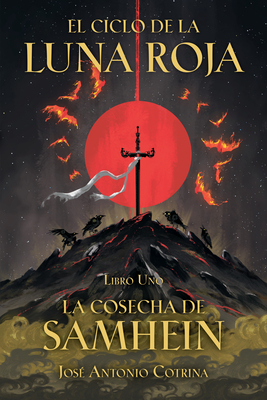 $17.99

Not currently in store. Available to ship from distributor's warehouse.
Description
---
Una de las trilogías de fantasía más populares de Europa ¡presentada en versión original, en español! Doce adolescentes de todo el mundo son hechizados por un demiurgo. Lo siguen a un mundo mágico devastado por la crueldad y la brutalidad, donde tienen que sobrevivir hasta el regreso de la Luna Roja. A pesar del peligro, los jovenes intentan resistir con la ayuda de la magia. Pero un mal más antiguo que el reino en que están se despierta mientras la Luna Roja se acerca...

¡El autor José Antonio Cotrina nos regala una historia llena de giros y emociones que te harán desear más!

Bienvenido a Rocavarancolia

Bienvenido al reino de los portentos y el espanto, de los monstruos y las pesadillas. Bienvenido a un reino a las puertas de la muerte.

Tras la guerra, Rocavarancolia languidece convertida en una ciudad en ruinas.

Ya no hay dragones en el cielo, los vampiros mueren de sed y la magia ya no basta para sostener el reino.

Pero todavía hay esperanza. Este año, como todos los años, el demiurgo de Rocavarancolia planea su cosecha: seduce a un grupo de jóvenes de la Tierra, a los que trae a su mundo y abandona a su suerte en la ciudad. Les dice que tienen que sobrevivir hasta que la Luna Roja aparezca en los cielos. Y eso no lo ha conseguido nadie en los últimos treinta años.

¿Qué los hace especiales? ¿Por qué son tan importantes? ¿Y qué sucederá cuando salga la Luna Roja? Hector, Álex, Natalia, Marina, Bruno y el resto del grupo buscan respuestas mientras luchan por sus vidas en la ciudad en ruinas. Pronto se dan cuenta de que son más de lo que parecen: Natalia ve criaturas ocultas en las sombras; Marina tiene atisbos del futuro; Bruno cuenta con unas dotes portentosas para la magia... Desde la distancia, los antiguos habitantes del reino observan expectantes. Esta cosecha es la última esperanza de Rocavarancolia.

Pero uno a uno van cayendo. La muerte acecha en cada sombra y en Rocavarancolia no hay piedad ni lugar para los débiles. La ciudad está hecha de oscuridad y, poco a poco, su naturaleza infecta a los supervivientes. Rocavarancolia los envenena, los transforma, les va arrebatando, pedazo a pedazo, su humanidad.

English Description:

The fantasy trilogy that took Europe by storm - presented in its original Spanish-language format! Twelve teenagers from around the world fall under the spell of a demigod and journey to a mystical realm of devastation and cruelty where they must survive until the Red Moon returns. Despite the danger, these kids do not intend to surrender--they have magic on their side, and the time has come to take initiative! But an evil older than the kingdom itself awakens among the ruins, and the Red Moon approaches...
About the Author
---
José Antonio Cotrina is a Spanish writer, focused mainly on the fantasy, science fiction and horror genres. He is best known for his novels set in the Between the Lines Universe and for his trilogy, The Cycle of the Red Moon.