The Color Purple (MP3 CD)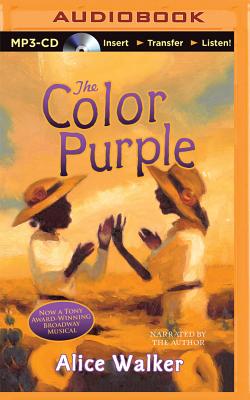 $17.99
Email or call for price.
Staff Reviews
---
There's a reason many people consider this novel a classic.  The Color Purple follows Celie, a black woman growing up in the rural American South in the early 20th century, and her rich life of love, loss and human connection. The prose is lurid and detailed: be prepared to copy down quotes as you read because truths about love and life are plentiful throughout the text.  This is an essential depiction of black womanhood and sexuality, and an ageless classic for the new era.
— Emily M., bookseller
Description
---
Winner of the Pulitzer Prize and the National Book Award, this novel about a resilient and courageous woman has become a Broadway show and a cultural phenomenon.
A PBS Great American Read Top 100 Pick
Celie has grown up poor in rural Georgia, despised by the society around her and abused by her own family. She strives to protect her sister, Nettie, from a similar fate, and while Nettie escapes to a new life as a missionary in Africa, Celie is left behind without her best friend and confidante, married off to an older suitor, and sentenced to a life alone with a harsh and brutal husband.
In an attempt to transcend a life that often seems too much to bear, Celie begins writing letters directly to God. The letters, spanning 20 years, record a journey of self-discovery and empowerment guided by the light of a few strong women. She meets Shug Avery, her husband's mistress and a jazz singer with a zest for life, and her stepson's wife, Sophia, who challenges her to fight for independence. And though the many letters from Celie's sister are hidden by her husband, Nettie's unwavering support will prove to be the most breathtaking of all
The Color Purple has sold more than five million copies, inspired an Academy Award-nominated film starring Whoopi Goldberg and Oprah Winfrey and directed by Steven Spielberg, and been adapted into a Tony-nominated Broadway musical. Lauded as a literary masterpiece, this is the groundbreaking novel that placed Walker "in the company of Faulkner" (The Nation) and remains a wrenching - yet intensely uplifting - experience for new generations of listeners.