I'm Thinking of Ending Things: A Novel (Hardcover)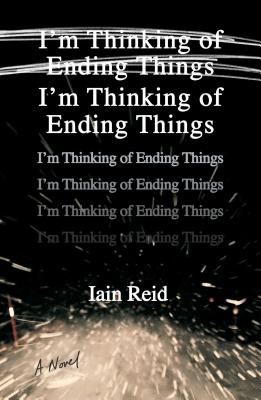 Find us on Bookshop.org to order!
Staff Reviews
---
Chilling. Disorienting. Thought-provoking. The story follows a young woman meeting her boyfriend's eccentric family on a snowy night in the countryside. The trip does not end exactly how she had anticipated. This is a quick, enthralling read. Very interesting to compare with the film interpretation on Netflix!
— Kate F., Bookseller
June 2016 Indie Next List
---
"With his debut novel, Reid sets an extremely high bar for all future psychological thrillers. The entire story takes place in little over 24 hours as Jake and his girlfriend travel to meet and have dinner with his parents. Narrated by the unnamed girlfriend, something unsettling surfaces early and builds with the passage of every page. Readers will become riveted, reading faster and faster as the 'unsettling' becomes frightening, and then terrifying. Recommended for all who enjoy a good mind-twisting scare!"
— Nancy Simpson-Brice, The Book Vault, Oskaloosa, IA
Description
---
SOON TO BE A NETFLIX ORIGINAL FILM DIRECTED BY CHARLIE KAUFMAN
AN NPR BEST BOOK OF THE YEAR 2016

"I'm Thinking of Ending Things is one of the best debut novels I've ever read. Iain Reid has crafted a tight, ferocious little book, with a persistent tenor of suspense that tightens and mounts toward its visionary, harrowing final pages" (Scott Heim, award-winning author of Mysterious Skin and We Disappear).

You will be scared. But you won't know why…

I'm thinking of ending things. Once this thought arrives, it stays. It sticks. It lingers. It's always there. Always.

Jake once said, "Sometimes a thought is closer to truth, to reality, than an action. You can say anything, you can do anything, but you can't fake a thought."

And here's what I'm thinking: I don't want to be here.

In this smart, suspenseful, and intense literary thriller, debut novelist Iain Reid explores the depths of the human psyche, questioning consciousness, free will, the value of relationships, fear, and the limitations of solitude. Reminiscent of Jose Saramago's early work, Michel Faber's cult classic Under the Skin, and Lionel Shriver's We Need to Talk about Kevin, I'm Thinking of Ending Things is an edgy, haunting debut. Tense, gripping, and atmospheric, this novel pulls you in from the very first page…and never lets you go.
About the Author
---
Iain Reid is the author of two critically acclaimed, award-winning books of nonfiction. His internationally bestselling debut novel, I'm Thinking of Ending Things, has been published in more than twenty countries. Oscar-winner Charlie Kaufman is writing and directing a film based on the novel, which Reid will co-produce. His second novel, Foe, was an instant bestseller and feature film rights have been acquired by Anonymous Content, with Reid set to executive produce. Follow him on Twitter @Reid_Iain.
Praise For…
---
"In a novel this engaging, bizarre, and twisted, it shouldn't come as a surprise that its ending is even stranger than the narrative route that takes us there...but it does. Reid's novel is a road trip to the heart of creepyness."
— Sjón, author of The Blue Fox, From the Mouth of the Whale, and The Whispering Muse

"I'm Thinking of Ending Things is one of the best debut novels I've ever read. Iain Reid has crafted a tight, ferocious little book, with a persistent tenor of suspense that tightens and mounts toward its visionary, harrowing final pages."
— Scott Heim, author of Mysterious Skin and We Disappear

"Here are some near-certainties about I'm Thinking of Ending Things. Number One: You're going to read it fast. Over the course of an afternoon or an evening. The momentum is unstoppable—once you start, you won't be able to stop. And Two: once you race to the end and understand the significance of those final pages, you won't be able to stop thinking about it. This novel will find a spot in your heart and head and it will live there---for days,weeks, months, or (in my case) the rest of your life. Yes. It really is that good."
— Nick Cutter, author of Cataract City and The Deep

"I'm Thinking of Ending Things begins with the unnamed narrator setting off with her boyfriend to visit his parents at their remote farm, and soon devolves into an unnerving exploration of identity, regret and longing. Delightfully frightening."
— The Globe and Mail

"I'm Thinking of Ending Things is an utterly compelling modern Gothic that stakes its claim in the inner precincts of horror. Reid builds tension the way Edgar Allen Poe builds brick walls in his basement."
— Wayne Grady, author of Emancipation Day

"An addictive metaphysical investigation into the nature of identity, one which seduces and horrifies in equal measure. Reid masterfully explores the perversity of loneliness and somehow also creates a very entertaining thriller. I found myself yelling at the characters to put their feet on the pedal and drive."
— Heather O'Neill, author of Lullabies for Little Criminals and Daydreams of Angels

"Smart, dangerous and spooky as hell. Iain Reid takes you on a harrowing road trip that keeps you riveted until the final destination."
— Brian Francis, author of Fruit and Natural Order

"Reid's tightly crafted tale toys with the nature of identity and comes by its terror honestly, building a wall of intricately layered psychological torment so impenetrable it's impossible to escape."
— Kirkus Reviews, Starred Review

"[Iain Reid] fuses suspense with philosophy, psychology,and horror in his unsettling first novel...Capped with an ending that will shock and chill, this twisty tale invites multiple readings."
— Publishers Weekly, Starred Review

"The construct of this book is brilliant and unusual and should appeal to fans of psychological thrillers, as well as to some horror fans. A dark and compelling debut novel, it is a most uncomfortable read but utterly unputdownable."
— Booklist, Starred Review

"One of the most anticipated literary thrillers of the season."
— Library Journal

"This slim first novel packs a big psychological punch with a twisty story line and an ending that will leave readers breathless."
— Library Journal, Starred Review

"Iain Reid has written a creepy but enthralling new novel… It's a psychological thriller that keeps readers guessing."
— NPR's Weekend Edition

"Reid's gradually building spookiness and plainspoken intellectualism make I'm Thinking of Ending Things a smart and unexpectedly fun book."
— New York Journal of Books

"This is the boldest and most original literary thriller to appear in some time."
— The Chicago Tribune

"Your dread and unease will mount with every passing page."
— Entertainment Weekly

"This is a deliciously frightening novel, Reid has a light, idiosyncratic touch but never lets his vice-like grip of suspense slacken for a second. Once finished, you will be hard pressed not to start the whole terrifying journey all over again."
— The Independent

"I'm Thinking of Ending Things is an ingeniously twisted nightmare road trip through the fragile psyches of two young lovers. My kind of fun!"
— Charlie Kaufman, Academy Award winning writer and executive producer of "Eternal Sunshine of the Spotless Mind"

"Absolutely chilling. I was constantly checking over my shoulder, closing doors, pulling blinds shut. Reid's fast-paced language is evocative, spine-tingling, and razor-sharp...[This] debut is worth reading for his deft ability to create tension and atmosphere; I can recall very few times in recent memory I've been so physically unnerved by a novel."
— Bustle

"...unrelentingly tense, expertly riding the line between paranoid and horrifying."
— Jezebel
Coverage from NPR