Bruce Springsteen: Like a Killer in the Sun: Selected Lyrics 1972-2017 (Paperback)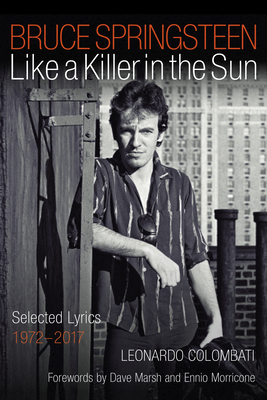 Find us on Bookshop.org to order!
Description
---
Bruce Springsteen - Like a Killer in the Sun, originally published in Italian, is the definitive book on the work of Bruce Springsteen, showing his unique narrative talent and offering an accurate critical examination of his poetics. It presents 117 among his best lyrics, expounded and annotated with the philological care used for the classics of literature. In his introduction, Leonardo Colombati draws the attention to the fact that Springsteen is an author grafted on the line that goes from Whitman to Steinbeck, from Flannery O'Connor to Raymond Carver. The book also contains Springsteen's biography and discography, plus an exclusive interview with Bruce Springsteen. With forewords by Academy Award-winner Ennio Morricone and music critic Dave Marsh, a committee member of the Rock and Roll Hall of Fame and Springsteen's biographer. Like a Killer in the Sun is a book for anyone who wants to listen to a powerful and inspired voice coming from the heart of America.