Smoothies: In This Cookbook, You'll Find Smoothie Recipes Suitable For Any Occasion, No Matter What Your Fitness Regimen, Health (Hardcover)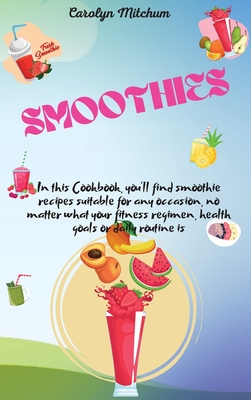 Description
---
Can't wait to make your skin glow or boost your body's energy?
EACH RECIPE CONTAINS COMPREHENSIVE NUTRITIONAL DATA TO HELP YOU PLAN YOUR MEALS AND MEET YOUR DAILY DIETARY NEEDS.
Whether you want to detox, lose weight or just make sure you're getting your daily dose of essential vitamins and minerals, drinking a smoothie is a tasty way to improve your health. A smoothie is a mixture of the juice, pulp and peel of fruits and vegetables blended in a blender. It is a relatively smooth drink and requires little chewing.
There are a variety of reasons to add smoothies to your diet, from their anti-aging properties, to promoting healthy skin, meal replacements, weight loss, diabetes control, disease prevention and increased cognitive function. Many fruits and vegetables have a wide range of antioxidants, which help fight many diseases such as heart disease and cancer. As you mix fruits and vegetables, you'll be surprised at how these healthy elixirs taste.
This book includes the following categories:
- ENERGIZING SMOOTHIE RECIPES
- DELICIOUS CHOCOLATE SMOOTHIE RECIPES
- EASY HOMEMADE GREEN SMOOTHIES
- EASY FRUITY SMOOTHIES
- HEALTHY BERRY SMOOTHIES & SMOOTHIE BOWLS
Incorporating at least one healthy smoothie into your diet on a daily basis can optimally transform your health by giving your immune system a much-needed boost to fight off disease. Many recipes also offer modifications you can make, but the healthy, fast, and easy promises never change. And since you have so many delicious smoothies to choose from, your blender is sure to occupy a permanent spot on your countertop
BUY NOW TO NOT MISS THIS FANTASTIC BOOK.